Philip French looks at a new biography of Robert Redford.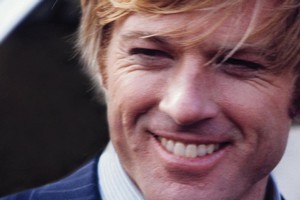 A new biography of Robert Redford gets to the heart of an enigmatic, Gatsbyesque charmer who dreamed of freedom, honesty and social fulfillment. Actor, director, producer, conservationist, political activist and patron of independent cinema, Redford has lived a formidably energetic life while continuing to look like the diffident, tousle-haired all-American boy next door.
He'll be 75 on August 18, and his latest film as director, The Conspirator, a study of the fallout from the assassination of President Lincoln, is as ambitious and serious as anything he's done.
Irish writer Michael Feeney Callan has known Redford for 14 years, interviewed him at length, spoken to some 300 witnesses and had access to his diaries and notebooks. The other actor-director whom Redford most resembles is Clint Eastwood - the Depression and the Hollywood western formed an essential part of both mens' values.
Redford was an indifferent scholar but good at games, a nonconformist, and strikingly handsome.
A restless traveller, he was both arrogant and modest. Torn between painting and acting, he studied both in New York before opting for the latter.
He was a loner, yet married young to a Mormon and rapidly had a family.
Success came relatively soon to Redford and, in Callan's view, he perversely fought against it as unworthy of his destiny and deflecting him from his mystical dream of freedom, honesty and social fulfilment.
During the Broadway run of Neil Simon's Barefoot in the Park in 1963 (Redford's first major success and last stage appearance), Ingrid Bergman visited him backstage. Her exit line was a sonorous piece of advice: "Do only good work." This seems to have guided him over the next half-century as he entered into a creative alliance with the equally serious Sydney Pollack (who directed him in seven films), formed a lifelong friendship with Paul Newman, and became a major star. Along the way his evolving interest in social, political and ethical issues was brought to bear on the movies he produced and directed, with The Candidate, All the President's Men, A River Runs Through It and Quiz Show arguably his major achievements.
Of course, there were significant compromises. To support the Sundance Institute and its film festival, the organisations he created to promote small-scale independent film production, he found himself starring in slick, hollow vehicles such as Spy Game. In those, he had to preserve his popular romantic persona, the sort he projects in The Horse Whisperer, the most calculated of his films as actor-director.
"I was thinking of this theory I developed," he told the audience of TV talk show Inside the Actors Studio. "It's called taking responsibility for a talent. I came to accept that a large audience wanted to see me as this representational romantic character of some moral standing. I concluded there was a rightness in that."
Callan has written an elegant, perceptive book, admiring, friendly, but neither hagiographic nor obsequious. Generally he gives us Redford warts and all, the worst of which apparently - to fellow professionals at least - is his appallingly bad timekeeping. But these no more disfigure his character than those familiar physical blemishes disfigure that handsome, weathered face.
LOWDOWN
What: Robert Redford: The Biography by Michael Feeney Callan (Random House $44.95)
When: out now
- TimeOut / Observer