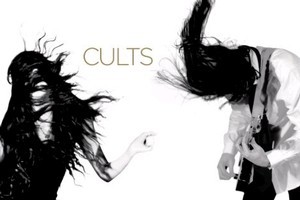 Album cover for 'Cults.' Photo / Supplied
Male-female duo the Cults seem to want to dispel some of the connotations of their badge "new indie-pop band from New York". Yes, they are fun and keen, and keen on referencing a bygone era, but they do have a definitive mood that they maintain throughout these 11 tracks.
The verbal explosions of Madeline Follin meld nicely with Brian Oblivion's cool smoky guitar. She channels the likes of The Supremes in You Know What I Mean and cutesy 60s beach pop in I Never Saw the Point in Crying, but Oblivion gives the sugar a tart kick by shrouding tracks in reverb and playing with spooky, Addams Family-like percussion.
Stars: 3/5
- TimeOut