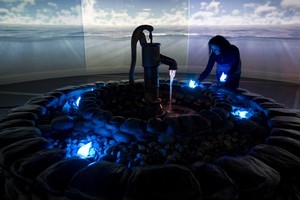 Surrounded by 360 degree screens, Aucklanders can become a "human mouse" at the War Memorial Museum's first large-scale interactive show.
AQUA, a global story of water, opens tomorrow. The interactive show covers everything H2O related - issues over it, its history and its sources.
"It's not your typical museum exhibition," says local content developer Janneen Love. For the next three months, viewers can uncover words and create waves and whirlpools by waving their arms and legs.
Body movement is caught by 10 overhead cameras which connect the data with the screens. "Geeks are very excited," says Ms Love.
Auckland is the first stop on the international circuit for the exhibition.