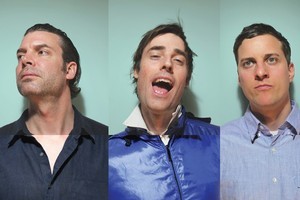 It's time for utter musical madness to take hold once again. And it's about time because it's been four long years since New York instrumental crazies the Battles released their classic brain-addling debut, Mirrored. The thing is, there's a fine line between being a a great band and a gimmicky band when you play music like this.
On breakthrough track Atlas, with its babbling vocals and bent and twisted groove, Battles managed to conjure up the sonic equivalent of a madcap and cheesy cartoon. The closest song to it on Gloss Drop is first single Ice Cream - but it sounds annoyingly gimmicky. Not that that's a hallmark of the album. Because wild creativity is still at the forefront of their sound with the rapturous percussive heaviness of Dominican Fade a nod to their Caribbean influences, White Electric is punishing in its unrelenting brazenness and Africastle and Futura are the complex and crazed sonic urges of a devastatingly brilliant chamber rock band.
It's just that Gloss Drop is more measured, tame even, so overall it lacks the outlandish beauty that made Mirrored such a freakish force.
Oddly though, the lasting impression this frenzied and wildly ambitious experimental album leaves is a physical hankering to see the songs played live, which is where they would be at their most dynamic and astonishing best. It also wins album cover of the year (so far) for its delicious pink blob - like a piece of pink pumice-meets-oozing Play Doh - that manages to be grotesque and cute all in one.
Stars: 3/5
Verdict: Some killer, but also too much tame filler
- TimeOut