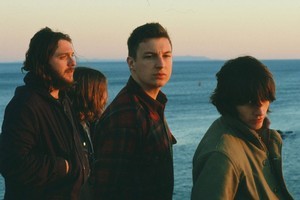 Their dalliances in the Californian desert with Queens of the Stone Age's Josh Homme as producer on third and previous album Humbug might have set out to prove the Arctic Monkeys didn't want to be limited to writing toe-tapping tunes about life down the chip shop. But they sure lost the upstart verve of their first two albums.
Here they're back with James Ford, the producer of those breakthrough sets and the result is a record which delivers a well-rounded bit of everything.
That swings from the airy Britpop of opener She's Thunderstorms, which sounds like a great lost Smiths track, to Brick by Brick, a song so Iggy Pop it actually shares its name with his 1990 album.
There are still echoes of Humbug's grind on All My Own Stunts as well as the band's former teenage freneticism on Library Pictures.
Mostly, though, this pivots on frontman Alex Turner's way with a wry telling phrase tied to a wistful tune - if not the vivid generational observations that defined his early work - and the band's punchy and plaintive playing.
That's at best on the likes of first single Don't Sit Down Cause I've Moved Your Chair and the grand jangling Piledriver Waltz, which, again, comes with strong echoes of Messrs Morrissey and Marr. Some of the more measured tracks down the back don't quite stick, though the very Stone Roses finale of That's Where You're Wrong is a fine ending to an album that recaptures some of that early spark but moves them along neatly.
Stars: 4/5
Verdict: Brit bright sparks' fourth a return to form
- TimeOut