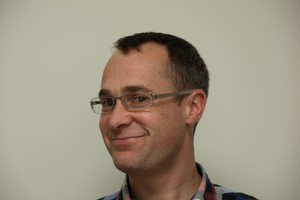 Friday night drinks, meet me at?
Kakapo Technologies. Our neighbours are generous in sharing their love of New Zealand boutique beers.
I'll be wearing my new:
Opshop tie to the Icon Awards, because old is the new new.
And this weekend I'm planning on:
Swimming at Spray in Kilbirnie. It's great fun, unless our toddler twins run in different directions at once.
But I'll need to refuel at my favourite cafe:
Gipsy Kitchen - the deli where the cheese is named after the cow it came from!
Saturday evening, if my dreams come true there would be a gig by:
Arts Foundation New Generation Artist Jeff Henderson. But it is a long shot as he is at a festival in the Netherlands.
But if there is nothing else to do, I'll probably just:
Make a fire and reflect on the excitement of the Icon Awards.
On my stereo headphones right now is:
Pool Party by the Aquabats.
Kids' music with integrity.
The book I can't put down is:
The Graphologist's Apprentice by Whiti Hereaka.
The TV show I take the phone off the hook for:
Anything on TVNZ 7. Do I need to say any more?
The movie I've been dying to see:
Love Story by Florian Habicht. Shot while Florian was on our Harriet Friedlander New York Residency and opening the New Zealand International Film Festival.
A non-cooking Monday night means takeaways from:
Margherita pizza from the Mediterranean Food Warehouse. Almost exactly like we had it in Naples.
Or a splash out Wednesday night restaurant would be:
Fish 'n' chips at the beach. Two mortgages, three kids, one income. The closest we get to a splash at the moment are stones in the tide.
Wellington-based Simon Bowden is executive director of the Arts Foundation, which announces the recipients of its Icon Awards tonight at Government House, Wellington.
-TimeOut