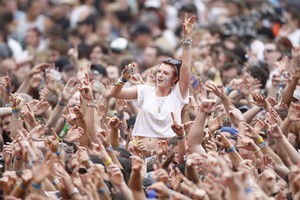 Imagine a January without the Big Day Out.
Actually, it's not too much of a stretch for me, because, of the Big Day Outs that I have been old enough to attend, I have only made it to half - gulp - because of a series of unfortunate events. Which means that over the event's 20-year history, I have had an attendance of 25 per cent. Pretty poor, I know. When people recount particularly rad BDO experiences I often just nod and pretend I was there because I don't want to be ostracised. In fact even this brave admission to my lack of attendance makes me feel like such a reject that I must explain myself:
One year I managed to miss both the BDOs in Auckland and Sydney due to poor planning of flights. Another year I went to live overseas two days before the event. Another year, I started a new job on the Big Day, so had no leave to take. This year I was in LA (no complaints there).
So now you know. I do have wonderfully hazy memories of the BDOs I have been at: tossing my hat at Mike Skinner when fanaticism got the better of me, then watching the security guard sweep it off the stage and realising it wasn't my hat to throw; licking dreadlocks in moshpits where I was too short to catch any of the sound waves, and spending my very last $10 on a tofu burger at the end of the day, only to have it knocked out of my hand by a fat guy and then watching it spread its way across the concrete on the heels of Dr Martens.
Beautiful memories, that have haunted me whenever I have not been at the BDO with my friends. It's even worse now I can see the morning-after evidence via the likes of Facebook.
I would never wish that nauseating fear of missing out on any New Zealander. Imagine if we had to endure all our Australian friends posting Facebook photos of the BDO. It's bad enough when they splash Splendour in the Grass pictures over my news feed.
Fingers crossed the BDO organisers were telling the truth when, in the most brief press statement my inbox has ever read, they announced the show would go on, even though Mt Smart Stadium looks like a definite no-go. Would North Shore Stadium work? It seems a bit sleek and it grapples with that mental block of crossing the harbour bridge, but I suppose that in Auckland, buses travel twice as fast as trains and teetotallers would have plenty of parking.
If only Pukekohe Raceway wasn't in the wops as it has space, facilities, flat grounds, and fewer kill-joy lawyer-type neighbours than Aotea Square.
But imagine waiting for trains to chug all the way out to the Bombays. Nightmare. Avondale Racecourse is also right on a transport hub and handy for all the Westies but lacks the facilities. ASB Showgrounds? That worked for Megadeth and Slayer at the metal fest No Sleep 'Til Auckland in October, but was dealing with only a fraction of the BDO crowd.
Clearly, the BDO organisers aren't spoilt for options in Auckland, but fortunately, punters actually are.
Missing out on the BDO would have been much more traumatic a few years ago before Vector Arena started attracting massive acts almost every week from December until April and festivals like Rhythm and Vines and Laneway became huge events. Fortunately for me, there has always been something else to stick in the diary when the BDO timing failed me. But for tens of thousands of punters, it's the Big Day Out or nothing. Perhaps next year that will mean the North Shore or nothing.
-TimeOut