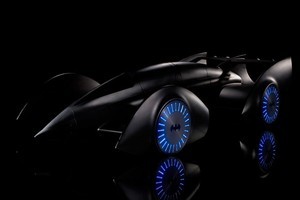 The Batmobile has been given a high-tech makeover by none other than McLaren F1 designer Gordon Murray.
The Caped Crusader's reworked car is the star of the Batman Live stage show set to tour Britain. The aerodynamic shape of the cockpit has been designed with real-world downforce in mind.
Combining a massive F1-inspired rear wing and blade-like wheel housings, the styling evokes the 1980s Batmobile, rather than the back-to-basics approach of the recent films. And there's plenty of modern gadgetry hidden underneath the stealthy bodywork.
The fantasy drivetrain consists of four "diode virtual wheels", powered by the combination of an on-board hydrogen-fuel cell stack and lithium-ion batteries.
The drivetrain is capable of creating electrical force fields to "levitate" the car 40mm above the ground. Carbon-ceramic afterburners can propel it from "superspeed" to "hyperspeed" in two seconds.
Additional crime-fighting kit includes a virtually silent "breathable" carbon fibre body, radar-jamming system and laser blasters that double as headlights.
And although there's room for Batman's trusty sidekick on board, the main "Bat Grip" controls recognise the Caped Crusader's energy signature, so only he can drive it. Murray was responsible for the initial sketches and concept of the car, but the actual model used in the show was built separately.
Murray said: "We have thoroughly enjoyed the opportunity to apply advanced materials and concepts to create a truly unique take on one of the world's most iconic vehicles."
The show, with a 43-strong cast, 3D set design and a 30m video wall, kicks off in Britain next month.