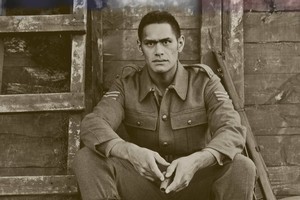 A "tuakana" is a mentor (literally "older sibling") to a "teina", and this $20 double bill includes Strong Hands, a contemporary drama by Michael Rewiri-Thorsen - in the nerve-wracking position of teina - and Te Awarua, a tragicomic melange of history and myth by tuakana Albert Belz.
Developed with new company Hekama Creative, Strong Hands is set in a car mechanics workshop and explores the tense relationship between two brothers - coincidentally the same scene and scenario as The Brothers Size (on now at Herald Theatre).
Both Chris Molloy (whose own work The Last Taniwha is playing next week) as a lank-haired, wound-up salesman and Rob Williams as his silent teina brother do a good job as their characters grapple with psychological isolation in their different ways.
Brian Rankin as the stuff-up apprentice provides great light relief with some funny lines.
However, the play suffers from trying to fit a family epic into one act before pretending it was only a slice-of-life all along. The lighting, staging and small scenes are all bitsy, and the blocking leaves the audience on the "sidelines" a little bereft.
But Belz and Smackbang Theatre Company get it spot on with the poetic, original Te Awarua, which has a near-perfect structure and a marvellously light touch.
Tawera (a remarkable Matu Ngaropo) is a Maori soldier stuck in a World War I trench with a French woman (Cian Elyse Waiti, also wonderful), to whom he regales the love story over-the-water of Tutanekai and Hinemoa.
Cleverly, mist onstage is first the dust of battle and then Rotorua steam. Much of the dialogue is in te reo - a bold, important decision, and thanks to the actors' expressiveness and director Tainui Tukiwaho's decision to have them face the audience, non-speakers can also get caught up in the story.
The brief conversations in French are far less convincing but there are heaps of well-delivered, cracker lines in English: "No Man's Land is no place for a woman", Tawera tells his visitor, before they bicker about whether talking to the dead or risking one's life for a dream is more porangi (crazy). A Matariki Festival highlight.
*Tuakana-Teina Project - Te Awarua and Strong Hands - are on at the Auckland Town Hall Concert Chamber until Friday. Buy tickets.