She wallowed in her self-pity and it produced some excellent tunes. Jacqueline Smith talks to singer songwriter Hollie Fullbrook, aka Tiny Ruins.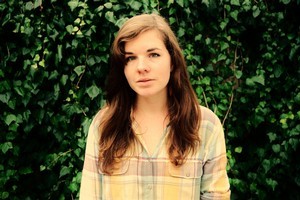 People always say it is a lovely name, Tiny Ruins.
And it's almost the best way to describe Auckland musician Hollie Fullbrook's sound. Intricate and tender, yet powerful. Quirky. Timeless. Curious.
Like most folk musicians, Fullbrook doesn't want to be labelled a folk musician, not just yet. Yes, it's just her and her acoustic guitar at the moment, but she might get a band and synthesisers next time around. "Who knows?"
Musical success - and it is success when you hit the Top 40 with your first album and secure support spots with your idol Joanna Newsom - came as a surprise, really.
She's been writing songs since she was a lovestruck 14-year-old and her haven was the music department at Avondale College, where she kicked around with Lisa Crawley and Alistair Deverick from the Ruby Suns.
But before thinking seriously about releasing songs, she went to Wellington to study English literature, theatre and law.
Fullbrook admits she knew before she was even halfway through her law degree that a career in that field was not for her. But she soldiered on. Sometimes she can't bear to leave things unfinished.
"I was really stubborn and wanted to finish it. I said 'no, you have got this far'."
It's not quite the same when it comes to songwriting. Her meandering songs read like poems, slices of observation, almost chapters of a novel she would love to write one day but probably won't.
"One day I would like to write a book or essay, or anything more extensive than a song. But a song can come out and I can deal with it."
The 11 tracks of her debut were mostly born out of five Wellington winters spent in a rickety, draughty old flat, with her cat on her lap.
One particularly bad year, her flatmates went to their respective homes for the winter, and left her writing songs built on her self-pity. She laughed as she realised how pathetic she was being.
In actual fact some of the songs are about her cat, Pigeon. There are also songs about the people in the art deco Adelphi Apartments, which she walked past every morning to go to university and the woman she remembers from her mother's gardening group who was As Old As the Hills.
Little Notes, the perkiest track on the album was written and recorded on an impromptu tour of Northern Spain with her friend Lieven Sherlick, known as a Singer of Songs, a musician from Belgium. That was back when she thought she might write a wee EP.
She sharpened the bulk of her songs in Italy, when living with a family in a remote fishing town south of Napoli. They went on holiday for six weeks leaving her to look after the house and, as she didn't speak any Italian, it's there that she found the loneliness she needed to complete the songs she had written in winter.
Though they bring a lump to the throats of all who listen (including Australian indie label Spunk who is releasing the debut album, which she recorded across the ditch), she insists her life hasn't been laden with sadness - she just feels very deeply about things.
"People who write a melancholy song might be writing about a really awful thing that happened to them. Not a lot of horrible things have happened to me, but apparently I feel quite a lot about things. I go up and down. There is a playfulness on the album, it's not totally serious. I was feeling sorry for myself but kind of humorous at the same time because it was so pathetic."
LOWDOWN
Who: Hollie Fullbrook, aka Tiny Ruins
What: debut album Some Were Meant for Sea, out now.
Live: The Wine Cellar, tonight (sold out, second show Saturday night, door sales only), at Auckland's Lucha Lounge July 1st (with Mardi Potter), and at next Late event at the Museum on July 7.
Tickets: For Wellington, Christchurch and Dunedin at Under The Radar.
- TimeOut