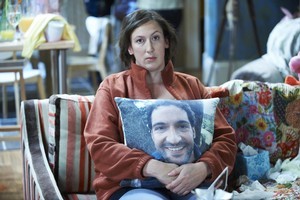 Relentless slapstick can seem like a last resort for a comedian. Well, you couldn't call yourself a decent stand-up if you were always falling down could you?
Strangely, that can't be said of Miranda Hart. The British comedian falls over what feels like every five minutes on her show Miranda (9.35pm, Fridays, TV One) and not once did I nearly not fall off the couch laughing myself.
The show has screened for only three weeks and already we've seen Miranda bail from barstools, plummet headlong along school corridors (after having her bum wedged in a tiny orange chair) and plough through a coat-rack in front of the guy she likes.
Google reveals we can also look forward to seeing her necklace get hooked on a sushi conveyor belt.
It's not high-concept stuff, in other words, but Hart can get away with it as she possesses the rare gifts of genuine funniness and warmth.
She has an old-fashioned sensibility akin to Morecambe and Wise. Or occasionally the more sneering Jennifer Saunders, whose Absolutely Fabulous character often drunkenly slid out of cars or down staircases.
Hart manages to elicit a laugh each time she wipes out because, at 1.86m, the punchline is that she is almost too big to fit into society, physically too. She's even hired short actors (Patricia Hodge as her marriage-obsessed mother who has already introduced the catch-phrases "what I like to call" and "what fun!", and Sarah Hadland as her ambitious joke shop co-owner Stevie) to make her seem all the more lumbering.
Hart is likeable because she is hopelessly uncool while still maintaining an almost psychotic cheeriness.
She's the type of singleton to break into tuneless singing in her PJs or to wander down the street nibbling a chocolate penis ("cock-olate" she calls it), until she realises what she's doing and tosses the offending candy in a passer by's school bag. Ha!
Hart is almost immune to embarrassment, and there's plenty. She's David Brent meets Edina Monsoon on happy pills. In the first episode her pants fell off on the nightclub dancefloor but she just carried on dancing in her knickers as though she meant it to happen.
Despite all this falling down, there's actually a lot of stand-up stage persona in Hart's show. She shares what's really going through her head by directing addressing the camera.
In Britain, Hart has become, deservedly, a massive comedy star, with two Bafta nominations this year. In NZ though, the head-above-shoulders comedian is oddly easy to miss.
Having watched the first back-to-back episodes on MySky, I then forgot the next week's episode, so tried to catch up online. But it seems even TVNZ has forgotten about Miranda.
The show is not listed on the website's prime shows and doesn't appear to be available on demand. Perhaps the network got nervous after the most recent episode, which was nowhere near as funny as the first two.
The sexual tension between Miranda and her crush, chef Gary had all but evaporated as the star packed herself away on a holiday to Thailand, when in fact she was just holed up in a cheap hotel down the road to get drunk with a conference group and use the trouser press.
It was as though Hart was resting on her goofy laurels and not paying enough attention to the writing. Here's hoping she continues to reach her previous heights in future episodes. Before falling on her face of course.
- TimeOut