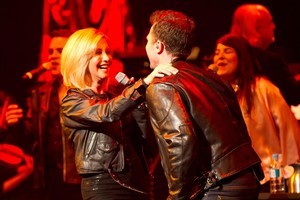 Australia's sweetheart Olivia Newton-John has dazzled the audience at the opening night of the Adelaide Cabaret festival, singing all her hits and classic covers.
Radiant in shimmering black, Newton-John inspired her audience to get physical, resurrecting her famous role as Sandy in the 1978 hit film Grease and donning a leather jacket to sing You're The One That I Want and Summer Nights.
The nostalgic trip down the superstar's four-decade plus career continued with Xanadu, Hopelessly Devoted To You and sultry 1980s classic Physical.
Gracious and self-deprecating, Newton-John joked with the audience that her songs "go back a long time, as do I" and asked: "Are you ready for some rock and roll? The question is am I?!"
Newton-John proved she could still deliver the goods. It seemed as if Sandy had never aged but merely gained a coiffured soccer-mom bob as the ever-youthful Newton-John had the audience on their feet, singing along.
The Aussie singer paid tribute to her country and western roots with her cover of Bob Dylan's If Not For You and injected her trademark wholesome warmth to a soaring rendition of Somewhere Over The Rainbow.
Newton-John understands her addictive appeal lies in being at the centre of an iconic film and paid tribute to her growing legion of fans.
"Some of you saw it when you were children and take your grandchildren!" she told the crowd on Saturday night.
"I was very lucky to be take part in a film that is finding a new audience even today."
The Adelaide Cabaret festival runs from June 10-26.
-AAP