The life of surfing champ shark attack victim Bethany Hamilton is getting the big-screen treatment. She talks to Helen Barlow.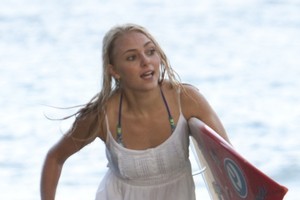 As far as teen idols go, Bethany Hamilton has it all really. Blond hair, surfing records, and a rather obvious shark wound.
She's dominated headlines, written a book, been on Oprah and now she has a feature film based on her brave, true-life story, starring a wish-list of attractive actors (Helen Hunt as her mother, buff Dennis Quaid as her dad and Carrie Underwood as her youth pastor). To top it off, Hamilton gets to do most of her character's surfing stunts. A surfing video that made the big screen.
Hamilton was 13 when she lost her arm in a shark attack in 2003, but Soul Surfer's Bethany, played by petite, 17-year-old actress AnnaSophia Robb (thanks to computer graphics), is slightly older. The Hamilton family exerted a strong hand in the film's narrative - supposedly to ensure it kept to the medical and sequential facts - and perhaps if they had not been granted so much influence, it might have been a bit meatier. While there are plenty of ominous, underwater sharks-eye-view camera angles in the lead up to the attack, the audience does not glimpse so much as the tell-tale fin of Bethany's predator, until it is supposedly caught by one of the island's fishermen.
So, at what was likely the Hamiltons' request, Soul Surfer becomes more a story that honours Bethany's Christian faith, than a remake of Jaws. (Thankfully, for those who need something to ogle at, it stars plenty of tanned blondes in swimwear).
Rather than indulgent shots of menacing tiger sharks, it is the
media who swarm the Hamilton's house and dine out on her decision to return to surfing, that are portrayed as the biggest threat to Bethany's safety.
Shoving cameras and microphones in her face at every available opportunity, these media vultures provide some welcome conflict on the island paradise. Other than that, Hawaii comes across as a resort full of spray-tanned, tooth-whitened supermodels, so every bit of drama helps it look less like a glossy travel advertisement. The island is also nicely contrasted with a devastated Thai coastal village, which Bethany visits after the Boxing Day tsunami as part of her youth group's missions trip. Guided by her pastor Sarah Hill, (Underwood in her first film role), Bethany is intent on accepting life with a missing limb, and it is here she muses on the meaning of life, and how surfing fits into it.
There's no doubt that Hamilton is an inspiration. Her brave story particularly touched amputees, shark attack victims, and young female surfers around the world. But when pastor Sarah tells a crest-fallen Bethany that she felt great things would come out of the accident, she probably didn't mean a movie.
Stars: 3/5
Starring: AnnaSophia Robb, Helen Hunt, Dennis Quaid, Carrie Underwood
Director: Sean McNamara
Rating: PG
Running Time: 106 mins
Verdict: The Book of Life, by a surf chick
- TimeOut