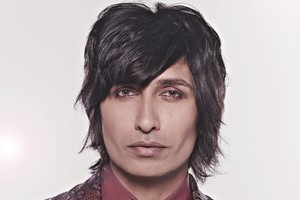 Friday night drinks? Meet me at 6pm:
Let's start early ... I get so bored when people say let's meet at 11:30pm. If everyone thinks that then let's get a party culture to start early like everywhere else in the world.
Where I'll be wearing my new:
Oh please ... I'll be going commando.
And this weekend I'm planning on:
Catching up with my family - there are a few birthdays and I have to play my part as the dude who buys the best presents.
But first I'll need to refuel at my favourite cafe:
Because, God knows I can't function without coffee. I love The Fridge in Kingsland and Parkside in Mt Albert. Having hosted NZ's Hottest Home Baker on TV3, some cafe owners get into a light "freak-out" when I'm looking at their baking, and I've even had some cafes pull dishes from cabinets.
Saturday evening. If my dreams came true there would be a gig by:
I've been very spoilt and have gone to some fabulous after-parties ... Lady Gaga, Duran Duran, and so on. So to me it's less who I see but more who I'm with. I love my friends, and miss them enormously when away. So I'd rather be experiencing something with them, sharing the madness, and talking about it for years to come.
But if there's nothing else doing I'll probably just:
There is always something to do. Though my Eastern philosophies can come into play and sometimes the universe says, "Stop, sit down, turn your phone off, shut up, and listen to the world breathe".
On my stereo/headphones right now are:
Pet Shop Boys, Duran Duran, Thompson Twins.
The books I can't put down are:
An absolute treasure. I'm always book-hunting, and when you fall into the pages and are enveloped by another experience, it is the ultimate escapism.
The TV show I take the phone off the hook for:
Archer. It's an animated adult show that's so well written. Highly recommended.
The movie I've been dying to see:
Is usually going to be viewed alone. I love the social aspect of movies, but my brother Eric taught me that when you want to appreciate something like a movie, then go early when the cinema is empty and watch it without distraction.
A non-cooking Monday night means takeaways from:
I know a couple of great pizza places and of course Tiffin in Morningside for Indian.
Or a splash-out Wednesday night restaurant would be:
A norm because I love going out at least once a week with my family, friends or lovers. Life is to be lived. Vinnies is a wonderful food experience. I'm dying to go back. They have a wild hare pie that I have to try.
* New Zealand's Next Top Model starts tomorrow night at 7.30pm on TV3.