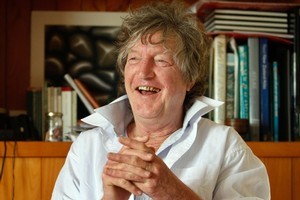 It's something of an irony that this portrait of our most accessible poet should be at times quite hard to watch. Director Rose compiled the film from a series of interviews conducted over several years, mixed with a generous selection of material from television archives. He's also thrown in talking heads, some of whom seem to have qualified by dint of having once interviewed Hunt, and say things like "Sam is what he is" a lot. Only Gary McCormick, a one-time acolyte who became Hunt's partner in stage mayhem for many years, gives these incidental ruminations any great heft.
That's no great matter because Hunt himself is an entertaining and revealing interview subject, even if he is, at best, an unreliable narrator (at one point he quotes a snatch of poetry but says he can't remember whether he or James K. Baxter wrote it).
And the film is rich in nostalgic touches - terrific performance footage in venues as diverse as the Gluepot and the Waimate Hotel - some fine poems delivered straight to camera.
The problem is that the film-makers keep garnishing their storytelling with irritating stylistic tics: interview subjects say "are we rolling?" before they start talking; some shots consist of a half-sentence comment followed by a fade-out; an interview with former Split Enz percussionist Noel Crombie cuts away to a meaningless swooping shot from an Enz/NZSO concert which is over almost before it has started; the editing process pulls us from 1983 to 2010 and back again so fast we turn giddy. Presumably the aesthetic objective is a technique that mirrors Hunt's raffish, random charm, but it looks careless.
When film-making gets in between us and the subject something is lost.
Still, if you like Hunt - and who doesn't? - it's well worth seeing.
Stars: 3.5/5
Director: Tim Rose
Running Time: 83 mins
Rating: M
Verdict: Stand still, for goodness' sake
- TimeOut