Benjamin Britten: Phaedra
(Chandos, through Ode Records)
Rating: 5/5
Verdict: "Superb soloists illuminate a splendid sampler of a 20th century master"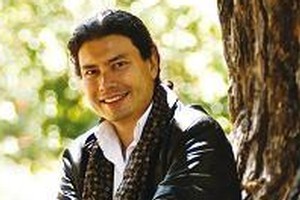 Sarah Connolly is a formidable artist. Her performance in the Royal Opera House's 2009 production of Purcell's Dido and Aeneas was a cultural oasis in amongst the endless reruns of tired rock concerts that dominate Arts Channel programming..
Singing Purcell, she impressed with her supple voice and her ability to delineate the dramatic; and the same virtues can be heard in Benjamin Britten's Phaedra on a splendid new Chandos CD of the composer's music.
The literary credentials of Phaedra are peerless. Racine's 1677 tragedy nodded to Euripides and Seneca and for this musical setting, the French playwright is elegantly translated by American poet Robert Lowell, catching the very Freudian dilemma of a woman "afraid to kiss my husband lest I love his son".
This is Britten's last substantial work and he moves beyond mere cantata into what is in effect a 15-minute one-woman opera. And Connolly treats it as theatre, even making credible such fruity lines as, "I want your sword's spasmodic final inch."
The mezzo is sexy when she pleads with Hippolytus, adding just the right shudder to "I adore you". After some thunderbolting percussion, she touches our hearts, seeking counsel of her nurse, Oenone, against spiky, stylish harpsichord and cello.
Conductor Edward Gardner brings in the full BBC Symphony Orchestra for Britten's A Charm of Lullabies.
The players relish Colin Matthews' brilliant orchestrations, and Gardner calls on the panache that has served him well as English National Opera's musical director. Connolly bewitches us, whether lilting in the Highlands with a Robert Burns setting or bursting forth in disturbing parental rage, to the words of 17th century poet Thomas Randolph.
On the orchestral side, while the second of Britten's Two Portraits of 1930 is the most effective of the pair, being a melancholic self-portrait of the composer, his 1932 Sinfonietta startles with its immediacy.
Conductor, players and engineers combine energies to give this taut, gripping score (extraordinary from a teenage composer) an appropriate sinew and thrust.
Finally, let us not overlook Ukrainian violist Maxim Rysnakov who spins total enchantment in Britten's 1950 Lachrymae, an evocative tribute to the Tudor lutenist and composer John Dowland.