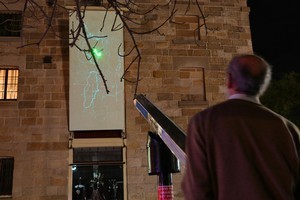 It's a rubbish truck driver who offers some straightforward advice on how to use this funny-looking art installation located on the corner of a busy Sydney street.
"Just push the button and do a drawing," he yells cheekily, as if I'm an idiot.
"You've done it then, have you?" I ask.
He just smiles, gives the nod, and carries on emptying bins into his truck.
The Public Art Pencil, as this piece by Queensland-based Kiwi artists Paul Johnson and Gail Mason is known, is one of 40 installations dotted around the Circular Quay and Rocks area as part of Sydney's Vivid Festival light walk.
Using the interactive installation's laser light you draw your own masterpiece - albeit a temporary one - on a "sketch pad" that's mounted on the wall opposite. While it looks a little like a machine gun from a World War II gun emplacement rather than a work of art, it's a fun plaything for kids and big kids alike.
And the garbage guy is right. It's easy to use, although the results can vary.
The official instructions about how to use the pencil start with the mantra: "Art is about slowing down, looking harder, and thinking more."
Johnson laughs: "Oh, that's just a deeply seated belief that I've always held. Drawing is really the crux of our creative life and it's not about the skill of drawing, it's the skill of seeing.
"Anyone can draw," he continues, "but by seeing clearly we are better positioned to make good judgments and understand the world that we are cruising around in."
Johnson was a lecturer at Wanganui Polytech for 16 years before he and his partner Mason moved to Australia in 2001. He reckons he woke up one day and had the realisation that he had to move on from his steady job. Not that they knew what they were going to do in Australia.
While he had always had an interest in public art, he admits that after moving across the Tasman "public art was the thing to get involved in if you wanted to survive".
These days they have 36 installations - with four more in the production stage - dotted around Australia from Darwin to Melbourne and into South Australia.
"That's in eight years. So it's a full-time job and we don't really do anything else apart from public art and we thoroughly enjoy it because it takes us to the most interesting places and [we] work with the most interesting people."
The pencil is unique among their many works in that it's not a normal sculpture. "I was loading it with a forklift on to a truck to go down to Sydney and the freight manager looked at me and said, 'That's not a sculpture.' I thought, 'Yeah, you're right - it's not.'
"It is totally outside our normal frame of reference because what we're proposing is not something sculptural for people to look at and gain something from, but something for them to play with, enjoy, and maybe even learn something. It's about them, not us."
Many of the other light sculptures that are part of the Vivid light spectacle have a similar sentiment and emphasis on public interaction.
You can jump around on German installation Hopscotch to create your own rainbow of colour, "graffiti" the side of the Museum of Contemporary Art at Interactive Paint Projection, then wander through the wave-like sculpture of Light Wave Action.
Then there are the more large-scale works, including the projections on to the Customhouse by Australian outfit the Electric Canvas, and the work of French art and design collective Superbien, who had the job of "lighting the sails" of the Sydney Opera House.
While some of the colours Superbien use recall that ghastly frock Kiri Te Kanawa wore to Charles and Diana's wedding, it's the scale of the work and the way the light floats, glides and then scuttles across the sails that makes it extraordinary.
But it's the 3D animation sequences projected on to the sandstone of the Customhouse that are most striking. During one sequence the building looks as if it's filling up with water as waterfalls cascade down the pillars. Then the building is lit up in a Roman-style facade before there are audible "Wows" from the crowd as it comes tumbling down, piece by piece, as if there has just been an earthquake.
It's impressive and clever stuff.
Sydney Vivid Festival
What: Public Art Pencil
Where and when: Circular Quay-Rocks area, to June 13