Quatuor Ebene, Fiction
(Virgin Classics)
Rating: 5/5
Verdict: "Exemplary French quartet plays the crossover card with Gallic charm and whimsy."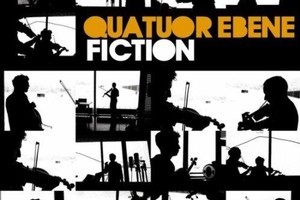 You may have met up with Quatuor Ebene delivering passionate Schubert on the Arts Channel or perhaps through the group's prize-winning CD of Debussy, Ravel and Faure. Its latest album, Fiction, is a stylish and quintessentially French stroll on a more popular boulevard. It is very much a remembrance of student days past, when chansons and jazz standards were surreptitiously slipped in among the Schubert, Ravel and Beethoven.
Fiction is bracingly eclectic. Alongside a driving Misirlou from the movie Pulp Fiction that gives the album its title, Come Together has the Beatles tune twisted here and there into something closer to Bartokian bop.
A number of tracks feature percussionist Richard Hery, who adds ambience and grit when the four Frenchmen soar in Wayne Shorter's Footprints, complete with cellist Raphael Merlin cooking up the coolest of pizzicato solos.
Other guests include actor Fanny Ardant, brave enough to take on Nina Simone's Lilac Wine and make a classic chanson of it.
Natalie Dessay's over-careful Somewhere Over the Rainbow might not score points with the Judy Garland fan club, but the lush string backdrop may cause a few hearts to flutter.
Ironically, the best vocals come from violist Mathieu Herzog, when he takes us on a soulful journey through Bruce Springsteen's Streets of Philadelphia.
YouTube provides not only EMI's commercial rock-style video of the song (with the players wearing cans), but a goosebump-inducing live performance from Jean-Francois Zygel's chic television show Boite a Musique.
The highlight comes when the four men give us Snow White's Someday My Prince Will Come from the 1937 Disney classic.
This sugary number even ensnared the great Miles Davis, who headed his 1961 album of the same name with his version of the song.
The quartet gives it an essentially Gallic twist. The men introduce it, singing a cappella, in elegant barbershop.
What is more, it is rendered en francais, without any re-gendering of the lyric. Predictably, c'est un knockout, both on disc and in the live YouTube performance.
Don't deny yourself what must be one of the most insinuatingly appealing discs of the year.