As NZ's Next Top Model gears up for another season, Jacqueline Smith asks last year's winner what the new wannabes should expect.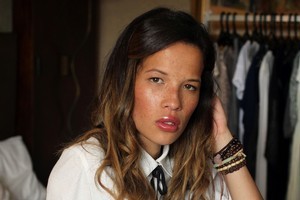 Danielle Hayes is not really what you expect to associate with the word supermodel (n. An extremely successful and internationally famous fashion model).
She runs around makeup-free, scoffing cheeseburgers as if they were celery sticks and her favourite phrase seems to be "hell yeah".
But she is the girl that the next round of New Zealand's Next Top Model contestants will be looking up to when the show returns next month.
Since she won the competition last year, Hayes' determination has not faltered and her job offers suggest she has what it takes to rise through the ranks of an industry that favours looks over everything else.
The series is now in its third season, having produced blonde, blue-eyed winner Cristobel Grierson-Ryrie and crowd favourite Ruby Higgins in 2009, and last year, a personality-studded line-up including Dunedin's famous twin redheads Elza and Nellie Jenkins and the serial foot-in-mouth offender Dakota Biddle, famous for saying she was considering a career in adult entertainment before auditioning for the show.
This year's series follows the same format, a shortlist of 33 girls from all over New Zealand, vying for one of the coveted spots in the Top Model house, now rumoured to be a swanky apartment in Auckland's Viaduct.
They will be put through photoshoots and runway challenges with some of the biggest names on the local fashion scene, and will no doubt be whisked off to exotic locations for five-star treatment while complaining about their heavy workload and making the obligatory snarky comments about each other's weight.
Emma White, the third season's producer, says that though there don't appear to be any mini-Danielles among this year's finalists, she has noted a greater variety of looks, including a couple of models who fit the "plus-sized" category.
"To be honest, Danni is so unique that we didn't expect to get a replica of her," she says.
Says judge Sara Tetro: "Often the girls don't realise that the things they dislike the most about themselves are the very features we find enchanting. That gap in your front teeth, those dangly arms and legs, that neck you've always thought was too long, may well be the very assets we're looking for."
"I see both conventional and unconventional beauty in women each and every day ... unless a girl or a guy feels good about themselves, insecurity and jealousy can distort an otherwise pretty vista. A more plain but confident, happy model will always shine brighter."
White says Hayes will be a hard act to beat as she appealed to such a wide cross-section of the New Zealand population.
"Danielle taught audiences that if you believe in yourself you can achieve anything and also that beauty doesn't simply mean blonde hair, blue eyes and a button nose," White says.
Brought up in Kawerau, very aware of her Maori roots, Hayes was put forward a year at school, went away to university to study art in Hamilton at 17, then decided she was sick of education and headed to Wellington for a bartending course. It's fair to say that she had more life experience than most of her contemporaries when she auditioned on a whim - encouraged by a mate who bet her 10 cheeseburgers she would get on the show - at 19.
But she was the one in at the deep end - she'd never watched an episode of Top Model, nor heard of many of the designers, so she was hanging on by what the judges described as her "unique and very international" looks.
Barely a year ago, Hayes was the painfully shy, slouch-shouldered girl who stuffed her hands in her jean pockets and hid her 'fro with a beanie. This time last week, she turned up to a swanky Herne Bay eatery in a snappy blazer, with her hair swept back and an iPhone. A transformation perhaps, but not a speck of makeup had touched her face and her treasured pounamu hung at her chest.
And her appetite is still healthy.
"You've gotta eat man," she says, as she shovels down more food than the publicist and the journalist put together.
Lunch preceded a casting for a High St designer followed by a meeting with a rep from a Paris agency. That particular meeting has the potential to open doors in Europe.
"Apparently I've got a strange look. A strange but interesting look," she shrugs.
She's getting career advice from Tetro, who is now her agent, and the show's judge Colin Mathura-Jeffree, who has become a close friend.
"It's the same old. Everyone just looks at you more and goes, 'You're from TV' and I'm like, 'No I'm not'," she says.
And some people still give her a bit of stick about her comment suggesting kids in Kawerau either went to jail or got pregnant. Does she regret saying that? "Nah".
Other than herself and international model Ngahuia Williams, there are few Maori girls gracing fashion magazines and strutting down runways.
"Since the show I have been approached by younger Maori girls wanting to be the best. And all I can tell them, is just go for your goals, and remember who you are, remember where you came from," she says.
She'll appear in the first episode of the new season cycle of the show, welcoming the new batch of 33 hopefuls to the competition at a ceremony in Waitangi.
That took her right back, to the nerves and confusion of those first few weeks on the show - she was shocked at how much her life had changed in nine months.
"My original thoughts were 'Oh my gosh what am I wearing?', and looking at the other contestants going, 'I look like a bush lady'."
Hayes will always enjoy being at one with nature, but these days, she takes her opportunities seriously.
Swapping trackies for dresses, gummies for heels is just part of her ticket to the fashion industry.
"I have to dress to impress," she says.
But that doesn't mean she is flashing herself about town - she will only sporadically appear in the social pages.
"I've narrowed it down to only going to one event a month, not to be a stingy wench but to show people I'm still here.
"I do go out to some functions, but I'm not one of those fame whores who can be seen at every party. I am more about the work," she says.
LOWDOWN
What: New Zealand's Next Top Model third season
When and where: The new season starts on Friday June 10 at 7.30pm on TV3
- TimeOut