That wimpy kid hasn't toughened up yet but he's back for another round of pre-teen embarrassments, reports Michele Manelis.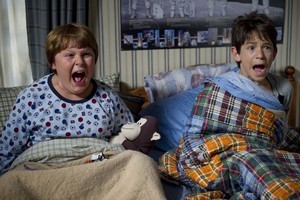 Why has Diary of a Wimpy Kid - which is now getting its screen sequel Diary of a Wimpy Kid: Rodrick Rules - struck such a chord with its fans on page and screen? Maybe because Greg the kid is more recognisable than most.
Says the creator of the illustrated novels and the movies, Jeff Kinney; "I wanted to write about a kid who seems like a real kid. A lot of times kids in movies and books are just miniature adults.
"They always do the right thing and are perfect. I wanted to create a kid who felt flawed and imperfect and most of the humour in my books comes from Greg not being perfect."
The first Diary was a low-key US$76 million (NZ$96 million) hit and the second is looking to repeat that success with plenty of gross-out humour, appealing to prepubescent kids. Surprisingly, there are enough laughs for the parents to make it watchable (particularly the efforts of the parents in the film to be cool).
Based on the life of seventh grader Greg Heffley, a classic outsider experiencing typical 12-year-old humiliations, we empathise with his everyday struggles. Unpopular at school, tormented by his older brother, and resentful of his younger sibling, he also endures a heartbreaking crush on a classmate. The star is played by 13-year-old, Zachary Gordon, already a Hollywood veteran.
He's appeared in television shows including How I Met Your Mother, Desperate Housewives and 24, as well as voicing characters in Beverly Hills Chihuahua 2.
He says, "It was a challenge to play this three-haired stick figure. I'm not really like him but he's great fun and it was a once in a lifetime chance to get this role."
The movie also reprises its principal stars Robert Capron, 12, as his best friend, and Devon Bostick, 17, as his older brother. Says Bostick, "I've been acting for a long time, since I was in Grade 5, and after the first Wimpy Kid, it was really interesting to do a film that people actually watched," he says.
Capron says his life has changed, "I get recognised in the supermarket and that's really cool. Now I get more auditions."
Kinney says of the inspiration for the books, "I didn't keep a diary or a journal as a kid, but I wish I had because it would make writing these days a lot easier than it is. But I kept one in my 20s and 30s and that ended up giving me the idea for Diary of a Wimpy Kid because I was keeping these journals made up of texts with little pictures in them. I thought, 'That might just work in a real book."'
As with any success, it's difficult to pinpoint the reasons why it clicks with an audience "I think the reason the books are successful is because there is no real message," Kinney says. "The books are simply entertainment. I'm not trying to moralise to kids; I'm just trying to give them a laugh and I don't think there's anything wrong with that.
"I think the books teach the kids that reading can be fun, and I've seen a lot of cases where a lot of kids get turned into lifetime readers."
LOWDOWN
What: Diary of a Wimpy Kid: Rodrick Rules
When: Opens at cinemas June 2
-TimeOut