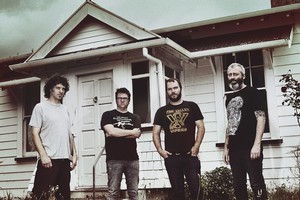 To help celebrate NZ Music Month, TimeOut and nzherald.co.nz, in conjunction with the Frequency Media Group, have been giving away a free download EP every Thursday in May.
Beastwars features in the final of the Outlook for Thursday series, one of six hand-picked tracks designed as a primer for recent releases from local rock and alternative acts. Here's Volume 4's tracklisting:
Cut Off Your Hands
You Should Do Better
Dispensing with the angular post-punk sound of their debut, this song, which will be on second album Hollow, out in July, has a delightfully steely Smiths-esque jangle and a dark pop sentiment.
Dear Time's Waste
These Words Stick Me To You
One of the more poppy and jauntier songs off Dear Time's Waste's debut album Spells from last year, which was a haunting yet enlightening collection.
Unknown Mortal Orchestra
Though Ballune
While his brother Kody has been off making music with Bic Runga, Mint Chick Ruban Nielson has been coming up with tracks like this psychedelic pop-cum-dead beat funk gem for UMO's debut album out on June 21.
Glass Owls
Griffin Boy
Off the Auckland quartet's debut EP, Dead Love, Griffin Boy skulks along with a dirty fuzzy bass, outbursts of brazen guitar, and the beautifully dour vocals of Tomas Nelson that are akin to Julian Casablancas of the Strokes.
Beastwars
Red God
Plant your feet, bend your knees, and get your head nod on to this beastly track from the excellent - and long-awaited - self-titled debut album by the Wellington metal band.
Motocade
The Big Empty
A typically grand rousing pop rock tune which is the second single from their soon to be released sophomore album Science Fiction.
To grab the songs and accompanying artwork, simply go here.
- TimeOut