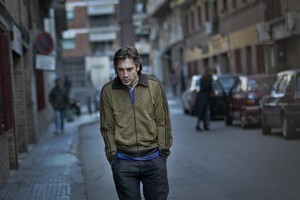 Death casts a long, dark shadow across the fourth feature by the Mexican-born director of Amores Perros, 21 Grams and Babel.
The main character Uxbal (Bardem, in a masterly Oscar-nominated performance), gets bad news from his doctor in the first few minutes; he talks (or perhaps pretends to talk) to the recently departed, helping them on their way and easing the pain of the bereaved; he has to disinter his father's remains from a cemetery being bulldozed for a development; he is implicated in an appalling tragedy at the film's midpoint.
In calling this film a requiem, Inarritu intends to contrast its linear, single-story form with the sprawling, multi-narrative style of his earlier "operas", but the word fits its elegiac substance too.
After two mysterious opening sequences, it is set in a Barcelona that tourists never see. Gaudi's Sagrada Familia is glimpsed on the far horizon from the Santa Coloma enclave, a multi-ethnic neighbourhood full of immigrants - many of them illegal - mainly from Africa and China.
Here, beyond his moonlighting as a corpse-whisperer, Uxbal plies various trades, simultaneously exploiting and assisting those around him as he gets work for illegals in sweatshops and on corner-cutting construction sites.
Meanwhile he strives to be a good father to his kids, Mateo and Ana, (Estrella and Bouchaib, radiantly naturalistic), while dealing with their bipolar mother Marambra (Alvarez, sensational), estranged but anxious to re-enter their lives.
With the Grim Reaper coming a step closer with every frame, the film is obviously no light entertainment, but the relentlessly downward narrative arc is not without its rewards.
At the head of a fine cast, Bardem, who seems to contain in his hulking frame not just a private pain but a distilled grief for the sins of the world, is mesmerising as a man striving to master a life that is slowly devouring him.
And the film's look, contrived by Inarritu's longtime cinematographer Rodrigo Prieto is impressively stylish, if sometimes overwrought: street sequences, in particular a police round-up, are so realistic you can almost smell them; by contrast, a scene in a nightclub, that recalls Guillermo del Toro's Pan's Labyrinth, is massively, showily over the top.
But ultimately, the movie, a nominee for the foreign-film Academy Award, is much less than the sum of its parts: events unfold in a story that reads like a variant of the biblical Man of Sorrows but the viewer is left as bereft as the characters.
It would be unfair to expect a glib, moralistic conclusion, but after taking us so deep into lives of such misery, the film might have offered some glimmer of hope - or even just a reason for the ride.
Stars: 3/5
Cast: Javier Bardem, Guillermo Estrella, Hanaa Bouchaib, Maricel Alvarez
Director: Alejandro Gonzalez Inarritu
Running time: 148 mins
Rating: R16 (Contains violence, offensive language and content that may disturb). In Spanish with English subtitles
Verdict: Grim and brilliant but ultimately hollow
- TimeOut