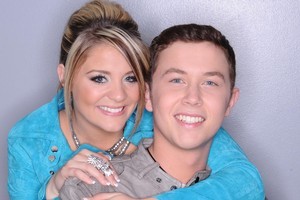 It's been the most all-American American Idol so far and now two very straight-laced, God-fearing country singers - 16-year-old Lauren Alaina and 17-year-old Scotty McCreery - will square off in this Friday's three-hour finale.
Which is a little odd, considering one of America's most outrageous front men and a sexy butt-shaking diva are on the judging panel, and Her Royal Weirdness Lady Gaga called in for a mentoring session. But the wholesome pair seem to have come through without being corrupted. This from Alaina about how she settles her nerves behind the scenes: "I try to remember to breathe. I always say a prayer. Without breathing and faith, I wouldn't survive!"
And McCreery says his favourite gift he received from a fan is a necklace with his favourite Bible verse - Philippians 4:13 - on the back. Who needs Gaga when you've got God, right?
The new season has been a goodie, with its new format and some star singers, many of whom have fallen by the wayside like Jacob Lusk (who needed to rein in his soaring voice a little) and the lovely Pia Toscano (who was a shock early-exit from the top 10).
However, the competition stayers have been Alaina and McCreery, along with Tourettes-suffering rocker James Durbin and the highly fancied Haley Reinhart, who battled their way through more than a dozen elimination rounds to make it to the coveted final four.
But now it's down to the bubbly Alaina, whose nickname is LaLa, and McCreery, the country boy who was branded a one-trick pony at first, but showed he can break out of his moochy and slightly cheesy country croon when he wants to.
Down in his hometown of Garner, North Carolina, where he sings in the First Baptist Church choir, school principal Drew Cook says McCreery is known as an honest and sincere person and a genuinely nice kid. And the singer's brush with saucy temptress Lady Gaga didn't worry Ron Fowler, the youth minister at First Baptist - he says young Scotty has studied the Bible while competing, and has used his beliefs to make wise decisions.
"Scotty has been careful to sing things that don't contradict his own convictions."
Meanwhile, over in Alaina's hometown of Rossville, Georgia, friends describe her as a "country girl" and straight-A student who loves cheerleading, volunteering with special needs children, the Harry Potter series and lists Idol winner Carrie Underwood as one of her biggest musical influences.
Longtime family friend Jody Tinker, who owns Fort Lake Tanning, recalls an 8-year-old Alaina singing and practising her autograph - while her Mom was in the tanning bed. "She [always] told me she was going to be a big star one day," remembers Tinker.
When: Friday, 7.30pm
Where: TV2
What: Scotty v Lauren
- TimeOut