Liam Finn's second solo outing shows the indie wonder boy is all grown up. He talks to Scott Kara about going back to his rock 'n' roll roots.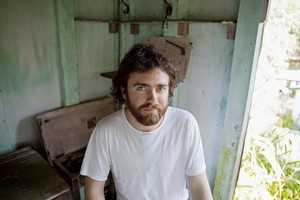 Liam Finn can be an earnest music geek, then a raucous beardy rocker, and he also has a lovely, cheeky turn of phrase.
"Sometimes when you're really hungover and exhausted, that's when you have your best chat with Nana," he laughs.
He's talking about the song Reckless - where he hollers "I'm a maniac now" - from his second solo album Fomo.
It's a song that will make you want to cut loose, take you back to your glory days, and - if you're anything like Finn - remind you of those moments of tranquillity when you're having a cup of tea and a piece of shortbread with your gran after a hard night out with your mates.
The 27-year-old says he's not as reckless these days, even though he's still prone to throwing himself around on stage when the opportunity arises. And since the release of his debut album I'll Be Lightning four years ago, after two records with his band Betchadupa in the early 2000s, Finn has grown up, is more self-assured and has found love ("I have, yes," he offers coyly.).
"I'm in a very different state from what I was then. To be honest, I feel like that was the turning point for me to learn how to follow my gut instincts and head out on a new path - and now it's changing and ever-evolving and that's what's really exciting."
Fomo (an acronym for "fear of missing out") makes I'll Be Lightning sound a little timid in comparison. It's more engaging, rather than dreamy and tender, like much of I'll Be Lightning was. That first album was reflective and intensely sad at times, whereas the new one is rousing, celebratory and about who he is now.
"It's been an intense journey writing it, making it, hating it, and then really liking it and questioning it - and it's been a completely different experience to making I'll Be Lightning," he says on the phone from London.
"On I'll Be Lightning I was shying away from what I'd been doing with the band for so long and I wanted to do a bedroom demo-type record. It was very insular. But this one is stepping out a little bit again and back to my rock 'n' roll roots."
Finn reckons the more direct and at times poppier sound is a natural reflection of his non-stop touring and playing over the past few years, be it solo, with his mates Lawrence Arabia and Connan Mockasin in mini indie supergroup Barb, or as part of Mockasin's band.
"And I've probably become more confronting as a person and as a performer," he resolves.
But what exactly is he most worried about missing out on?
"Nothing really," he sniggers. "I guess it kind of came from being at home [writing and recording Fomo] and this little underlying feeling of anxiety that slowing down was the wrong thing to do after doing so much work touring in the States and Europe. It felt like by hibernating I was going to lose my ground."
It didn't help that he kept getting messages from James Milne (Lawrence Arabia) and Mockasin who were playing shows around the world. He also got withdrawals from "not having that show at the end of the day and that release of adrenalin".
Getting back on the road in the last couple of months has made him realise that playing live is "an important part of who I am".
"Being on stage is part of the chemical make-up of what makes me happy and what makes me feel like myself."
He will be on tour most of this year with his new band made up of brother Elroy and Jol Mulholland; back in New Zealand for an album release tour in August, and they also play overseas dates including Australia's Splendour in the Grass festival in July and the Pearl Jam Labor Day concert in the US in September.
However, taking time out in the peace and quiet of Piha in 2010 was badly needed - and it was here some of the songs for Fomo started to develop.
Finn then moved to his dad Neil's Roundhead Studios in Auckland where he hooked up with producer Burke Reid, formerly of Australian larrikins Gerling, to record the album.
The pair first met nearly 10 years ago at a record company bash - Gerling were on Flying Nun at the same time as Betchadupa - but met up again when Finn's manager suggested Reid might be worth considering to co-produce the album.
They both wanted to use the state of the art facilities at Roundhead while keeping their "bedroom recording tendencies".
"He comes from a pretty different angle and enjoys the experimental aspect of trying to make a flash awesome beautiful studio sound like a crusty awesome beautiful studio, " says Finn. "It was quite nice to make something that was like a pop record but make it in a very anti-pop way in my eyes."
Album opener Neurotic World was the first song they recorded and it sets the sonic tone and sentiment for Fomo - or what Finn refers to as "the atmosphere of the record" - with its reflection on his place in the world.
Then there's Jump Your Bones, reminiscent of TV on the Radio only noisier with a toe-tapping catchiness; Real Late prowls along beautifully like the Cure's Lullaby and there is a fiery and squally Black Keys' guitar moment on Roll of the Eye.
Finn says many of the bands he's toured with in recent years, such as the Black Keys, Pearl Jam and Wilco, have rubbed off on him.
And another influence he doesn't mind admitting to is Beck's quick-fire 2008 album Modern Guilt.
"It was one of the reasons I wanted to make a short record - it was such a brilliantly concise record to listen to and it made me crave to make something that was within the attention span of your average man," he says.
And, in light of new single Cold Feet, is it a move into a more commercial direction?
"No, not really," he laughs. "When I wrote Cold Feet it just lent itself to that approach. I've learned that you don't always have to subvert songs to feel cool and original about them.
"At the end of the day if you write a pop song you should just let it be a pop song, and there's nothing to be embarrassed about."
LOWDOWN
Who: Liam Finn
When and where: Kings Arms, Auckland, Aug 3 & 4 with the Drab Doo-Riffs. For nationwide tour dates see liamfinn.tv
New album: Fomo, out June 13
See also: Barb - Barb (2010), Liam Finn - I'll Be Lightning (2007); Betchadupa - Aiming For Your Head (2004); The Alphabetchadupa (2002)
- TimeOut