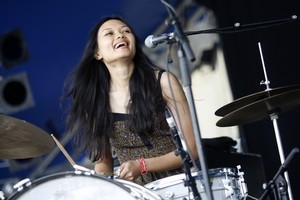 MUSIC
There's a wee bit of competition on the Saturday night gig front this weekend with chart-toppers Kids of 88 and Avalanche City playing the Britomart Country Club, Wellington's willowy folk darlings the Family Cactus are at the Kings Arms, metal titans Beastwars at the Thirsty Dog, and for something more tranquil - and a lesson in how to stand in silence - ambient dance artist Rhian Sheehan and his vast band play the Mercury Theatre.
Elsewhere, Australian dance rock practitioners Cut Copy play two nights - tonight and tomorrow - at the Studio on K Rd and Bic Runga gets together with F In Math - the new project by former Mint Chick Michael Logie - for a special show at the Whiskey on Ponsonby Rd.
MOVIES
Very rarely is there a week during the year that's all about the blokes at the movies. But opening in cinemas today is The Hangover Pt II, where Phil, Stu, Alan, and Doug do it all over again in Thailand.
Also opening this week is Agora, set in the 4th century and starring Rachel Weisz as Hypatia, a proto-feminist mathematician, and astronomer, and Biutiful starring Javier Bardem, which opened the Spanish Film Festival last week and opens for general audiences today.
Oh and be still my beating heart ... there's just a week to go before the movie event of the year, Lord of the Dance 3D.
TV
The national soundtrack that is country music has taken over this year's American Idol with finalists Scotty McCreery and Lauren Alaina both from the Tim McGraw-Carrie Underwood school of singing. So for those who are not big fans of the country twang, tomorrow night's three-hour finale on TV2 at 7.30pm might best be recorded so you can fast-forward to the important bits.
For something closer to home (and perhaps more real), Inside New Zealand returns with three-part doco series 24 Hours: Police (Wednesdays, 8.30pm, TV3) which looks at how New Zealand crime compares to overseas by following police in Auckland, Oslo, San Francisco and Perth.
And if you've yet to check out the new Sherlock (Sundays, TV One, 8.30pm) then you're missing out on a dark, yet hilarious series that's devilishly scripted and beautifully edited.
OR...
It's the National Recording Studios Open Day on Saturday (from midday to 4pm) where musicians, audiophiles, and anyone with a general interest in knob-twiddling and bass frequencies can have a nosy around some of the country's coolest recording studios. These include the hi-tech stalwart York Street, Neil Finn's Roundhead in Newton, where Liam Finn's new album Fomo was recorded and, if you happen to be in Palmerston North, take a look inside the Stomach, home to all sorts of weird and wonderful noise over the years. For more info go to nzmusician.co.nz.
-TimeOut