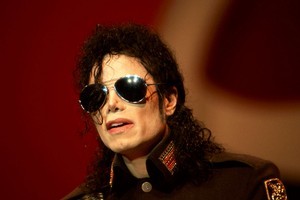 And in news that blazed straight through the gates of tabloid hell: A woman has filed two creditors' claims against late singer Michael Jackson's estate.
That in itself is hardly an eyebrow-lifter. Jackson, who died in 2009, was a frequent magnet for litigation and sue-happy merchants during the latter part of his life. What sets this crackpot claim aside from all the others is, well, read on...
Shellie Smith alleges that Jackson gave her herpes during a sexual relationship almost forty years ago, according to gossip website TMZ.
Cough. Splutter. Pull the other one! No, really.
In legal documents filed in Los Angeles Superior Court on Thursday, Smith alleges that Jackson gave her the STD in 1979, and that it "ruined her life."
Click here to read her claims (pdf).
"In 1979, I started having sexual relations with decedent," Smith writes in her creditor's claim. "Shortly thereafter, I began to get blisters on my legs, face and lips. He was my only partner..."
She adds: "At this time, I am unable to have a full and vibrant life due to the complications of this disease."
But hold on just one cotton-picking minute. Smith's memory must be a tad murky, for in her second claim she alleges she was diagnosed with herpes simplex after purportedly having sex with Jackson in 1977. Two years earlier. Oh, mere details!
She writes in her second claim: "[Michael] knew I was getting blisters on my body, however, he continued to have sex with me."
Smith is seeking a cool $10 million from the estate. Which, as TMZ rightly points out, she has a snowball's chance in hell of bagging. Plus, the deadline for filing a creditor's claim in Jackson's case has long expired.
And here's the kicker. This isn't the first time Smith has filed a claim against the late King of Pop. Oh no.
In January 2010 she filed a creditor's claim saying she was entitled to Jackson's dough, specifically spousal support - because they were 'secretly married' in the 70s. But it was an intimate affair. She claimed the ceremony took place in a New York City hotel room, and was witnessed by hotel staff.
Suffice to say her claim was swiftly rejected. As for her recently filed claims, don't hold your breath.
As the gloved one would say...
$Schwarzenegger scandal
Hot on the heels of the news that naughty Arnold Schwarzenegger fathered a secret love child with a former housekeeper, speculation is mounting over whether jilted estranged wife Maria Shriver will terminate their marriage.
If she does pull the proverbial plug on their 25-year marriage, it'll certainly hit the big fella in the wallet.
According to Page Six, the power couple is estimated to be worth $200 and $400 million. And the theory goes that if Shriver divorces the former governor, she could walk away with over $200 million.
Indeed, it would be a staggering settlement that would put Tiger Woods' $110 million divorce in the shade.
Although it's believed that the couple has some sort of prenup in place, it could be tossed aside "because of Schwarzenegger's spectacular philandering," reports the Post.
Should the document be given the shove, the couple's net worth, as per California law, would be split evenly.
That's IF they divorce. But given the news that Shriver has hired one of Hollywood's top divorce lawyers, Laura Wasser, chances are it's a distinct possibility.
Although a source says "Maria hasn't decided yet if she wants to end her marriage."
Wesser has previously represented Angelina Jolie, Christina Aguilera, Stevie Wonder, Kiefer Sutherland, and Britney Spears.
Meanwhile, fresh rumours abound that Arnie allegedly has two other love children with different women.
This tattle arrives courtesy of British actress Jane Seymour - a highly unlikely source of gossip!
Seymour, 60, told American TV station CNN last week that she was "not remotely surprised" by news of Schwarzenegger's philandering.
Of Arnie's declaration that he fathered a 14-year-old son with his family's now-retired housekeeper Mildred Patricia Baena, Seymour said: "He was obviously jumping the gun before everyone else told the world the news."
She continued: "And from what I gather there will be lots of information coming people's way. I heard about two more children. I met someone who knows him well."
Oddly enough, Schwarzenegger's biographer concurs with the multiple love children theory.
Author Ian Halperin, who wrote a biography on the Terminator star, tells the Daily Mail he's interviewed six women "who claim to have given birth to children by him."
He says: "You're going to see a plethora of other women come out of the woodwork."
In other news...
Blogger's Briefs
* Former Friends star David Schwimmer and his wife, photographer Zoe Buckman, are the proud parents of a wee baby girl.
Cleo Buckman Schwimmer was born on Sunday in New York, the actor's rep told People.
It's the couple's first child. Congratulations to them both!
* Mad Men siren Christina Hendricks has a message for us all: her boobs are real!
"People are constantly asking if [her] breasts are real or fake. They're so obviously real that anyone who's ever seen or touched a breast would know," she bemoans to the Daily Mail. Yep, we get it: They're real, and they're lovely, darling.
* Ashton Kutcher's Two and a Half Men deal is for just one year
* Zach Galifianakis rips 'rude' January Jones
* Grease star Jeff Conaway remains in critical condition
* Princess Beatrice's 'toilet seat' hat sells for $130,000 on eBay
* Maria Shriver refuses to hide: 'She has done nothing wrong'
* Zsa Zsa Gabor 'wakes up from coma'
* Harry Potter and the Deathly Hallows - Part 2 TV spot
* See Prince William and Kate's 'honeymoon gift'
And we're done.
Blogger Bites Back
* Read more celebrity news and gossip from Myrddin Gwynedd (MG) here
P.S.
While you're down here...
Colour me happy and please vote for this blog again in the Net Guide Awards' Best Blog category. Voting closes August 16.
Thank you!