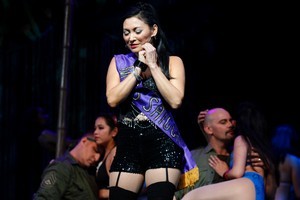 At a time when the supremacy of American culture appears unassailable, Miss Saigon delivers a timely reminder of the Vietnam experience with the haunting image of a helicopter evacuating the embassy in Saigon providing a sharp warning about the dangers of hubris.
Created by the partnership behind Les Miserables, the show presents a nuanced analysis of American power and brilliantly demonstrates how the vast sweep of history can be distilled into the intimate experience of ordinary people.
The production by North Shore Music Theatre is a testament to the enormous dedication of part-time artists who are driven by a simple love of performing.
While it is unrealistic to expect an amateur company to match the precision of professionals, the production is not far off the mark and whatever is lacking in polish is more than compensated for by the passionate enthusiasm of the cast.
Director David Adkins clearly understands that everything depends on establishing an emotional connection with the audience and at key moments the lavish imported set is swept aside and the performers are isolated, singing their hearts out on an empty stage.
This is not to say the show is lacking in spectacle - the famous helicopter scene is skilfully handled and the big chorus numbers are carried off with panache. But the power of the production comes from the way the cast throw themselves into the work and give voice to the emotional truth of their characters.
In the lead role Christina Zhu delivers a stunning performance in which innocent bewilderment is replaced by an explosion of fiery determination.
She also establishes a strong chemistry with Russell Dixon who brings a sweet tenor and an imposing physical presence to his portrayal of a disillusioned American soldier.
John Hellyer effectively anchors the show with an engaging performance as a sleazy entrepreneur while O'neal M. Mendoza manages to elicit some sympathy even as he plays a ruthless communist commissar and upholder of patriarchal tradition.
Tina Cross delivers a star turn as the nightclub hostess Gigi and the chorus absolutely sizzles in the ensemble performance of The Heat is On in Saigon.
With very reasonable ticket prices, this is a production that should not to be missed.
THEATRE
What: Miss Saigon.
Where: The Civic.
When: Until June 11.