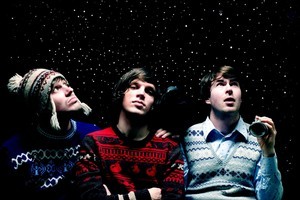 Chipper British synth pop might be a common description of new releases these days but Friendly Fires continue to keep it fresh on their second record.
Building drama into their fleet-footed grooves, they have created something quirky enough to whet expectant fans' appetites but snug enough to win them new listeners.
In the three years since the band's self-titled debut, they have upgraded their recording space from a garage to a barn, and have become a little more experimental with their instruments, adding camera shutters, birdsong and old home-recorded cassettes to their repertoire.
Some songs, like Running Away are packed with so many layers they run the risk of getting messy, but lead singer Ed Macfarlane has a crisp control over them that keeps the songs mellow. Rather than sweating it out on a treadmill, this song feels more like sprinting into a cool breeze.
Despite being driven by a dance pulse, in Blue Cassette the vocals seem to pull the synths through the track, rather than the other way around.
It's unashamedly inspired by pop records of the late 1970s and 1980s, and the smooth, broken-hearted track Hurting has all the satin-shirted sleaze of a retro love song. Meanwhile title track Pala (all birdsong and industrial sound effects) manages to evoke both weightless nonchalance and passion without taking itself too seriously. Impressive.
Stars: 4/5
Verdict: Retro-inspired Brit pop that transports the listener away from retro-inspired Brit pop
-TimeOut