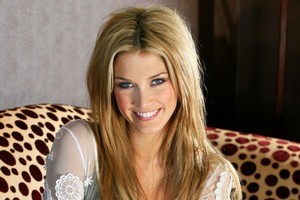 As odd celebrity hook-ups go, this one could trump Scarlett Johansson and Sean Penn. Well, almost.
Disney heartthrob Nick Jonas, 18, was snapped holding hands with a new woman over the weekend - newly-single Aussie singer Delta Goodrem, 26.
The couple was spotted on a cinema date in West Hollywood on Sunday, fuelling rumours of a romance between the pair.
Goodrem was all teeth an smiles as Jonas escorted her through the parking lot of the Arclight Cinema in Hollywood, reports the Daily Mail.
"Nick also sported a content smile, and didn't bother releasing Delta's hand when the pair were spotted by photographers," adds the report.
Which, in tabloid terms, means they're practically married and merrily raising progeny.
Check out the PDA that's got the gossip mills in a spin here.
There's also been much gum-flapping over Jonas' purity ring, and its notable absence on his finger.
Jonas and his brothers Kevin and Joe famously wear the accessory on their left ring fingers as a sign of their "promise to God to stay pure until marriage".
Goodrem recently struck up a working relationship with Jonas as the pair work on tracks for her upcoming album.
In March, three weeks before announcing her split from Brian McFadden, Goodrem Tweeted a photo of her with her arm around Jonas' shoulder while working in the studio together.
"Loved creating with the incredibly talented @nickjonas and @greggarbo," she wrote, along with the snap.
Jonas, who once dated Miley Cyrus, as well as his Les Miserables co-star Lucie Jones, has yet to publicly comment on his relationship with Goodrem. Though Jonas took to Twitter on Monday to say, "I feel so blessed. Had a great weekend."
Could this be a possible new romance? Or are we looking at a business relationship... with handholding benefits?
Well suck in your guts, because gossip website Hollywood Life 'confirms' that Jonas is in fact dating Goodrem.
"They became friendly while working together and he was very supportive while she was dealing with her troubles in her previous relationship," a source tells the website of the pair's "budding romance."
Goodrem split from former Westlife singer McFadden in April after several years together. The pair released a statement at the time, saying: "Delta Goodrem and Brian McFadden regretfully announce that they are no longer engaged, and after much consideration, have mutually decided to end their relationship.
"This decision has been made with a lot of soul searching from both parties with the realisation that they have grown apart. They leave the partnership with respect for one and other, wishing each other success and happiness for the future."
McFadden later took to Twitter to say: "I love Delta and always will. She is one of God's living angels. I thank her for giving me the best years of my life. Please give us time x"
A rep for Jonas declined to comment about his relationship with Goodrem, reports People.
Meanwhile, check out Goodrem performing on Dancing With The Stars in the US last week:
Charlie Sheen 'destroyed'
Former Two and a Half Men star Charlie Sheen is reportedly "devastated" that bosses at CBS and Warner Bros. Television cast Ashton Kutcher as his replacement on the hit show.
Punk'd star Kutcher was confirmed as his replacement on Friday.
Sheen responded to the news on Twitter. "Duh, winning?" More like "duh, whining."
"Ashton Kutcher is a sweetheart and a brilliant comedic performer," he wrote in a backhanded compliment, adding, "Oh wait, so am I!!"
He concluded: "Enjoy the show America, Enjoy seeing 2.0 in the demo every Monday, WB. Enjoy planet Chuck, Ashton. There is no air, laughter, loyalty, or love there."
But while his initial reaction was decidedly icy, Sheen later had a change of heart, and wrote: "#Winning. Congrats to the cast and crew...CBS & WB..! My best to @aplusk !! The show must go on... You got the right guy! C."
Kutcher (@aplusk) replied graciously: "#2.5 @charliesheen Thank man. Always been a fan, always will be! BTW you were "born big"
But despite the Twitter love-in, sources say Sheen is spitting tacks over Kutcher getting his old job.
Sheen is "destroyed" by the casting news, reports PopEater.
"He really thought that he would be invited back," a source close to the star said.

"After years of suffering no consequences for his behaviour, why would he think anything else?
"Finally it has sunk in that he doesn't live by different rules to everyone else. Actions do have consequences.
"He is destroyed that Ashton is replacing him. We are all worried that he hasn't hit bottom yet and that this could make him spiral out of control again."
Britney Spears: 'I'm pretty normal'
She's back, and she's in very fine fettle.
Pop marvel Britney Spears covers the latest issue of Harper's Bazaar magazine, and waxes lyrical about motherhood, her new album, and Justin Bieber. Yep, she's got the fever, too.
Britney on being normal:
"I'm pretty normal, you know? Like I said, the type of day I love is just like everybody else's. I'm like everybody else."
On The Biebs:
"I think he's adorable. I just saw his movie, and I really didn't realize how big he was. He's enormous; he's just Mr. Man. A lot of the movie is really similar to what I did when I was starting out. I did a promo tour for a year, going into radio stations and all that. It was so cool to see our similarities."
And she's still mates with Madonna:
"I actually saw her a couple of weeks ago at a party. I guess she's really taught me to stay true to myself. That seems like a simple thing to say, but she taught me through action, not just by saying it."
"There are so many people around you that have opinions, but you just have to listen to your instincts."
And she may well add to her brood and get hitched to beau Jason Trawick:
"I've thought about both. So if the timing was right..."
Click on over to Harper's Bazaar for more from her interview.
Blogger's Briefs
This lot just in...
* Reese Witherspoon and Ryan Phillippe spotted together
* Kim Kardashian knocked up?
* Piers Morgan calls Hugh Grant a 'tedious little man'
* Candace Bushnell talks Sex and The City prequel rumours
* Lindsay Lohan says she'll stay sober for life
* Sienna Miller ready for 'serious' 30s
* Michael Bay offers $25,000 reward to anyone who can find racist robots in Transformers 3
* Rihanna angers fans after following Chris Brown on Twitter
* Penélope Cruz hopes to keep son 'anonymous'
Blogger Bites Back
* Read more celebrity news and gossip from Myrddin Gwynedd (MG) here.
P.S.
While you're down here...
Colour me happy and please vote for this blog again in the Net Guide Awards' Best Blog category. Voting closes August 16.
Thank you!