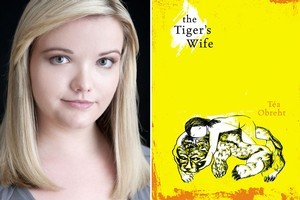 As Štefan Obreht lay dying, he had one final request. His Serbian-born granddaughter was an aspiring writer, who shared his love of storytelling. He asked her to write under his Slovene surname. Without hesitation, Téa Bajrakterevic became Téa Obreht.

Listening to Obreht tell this tale at the Auckland Writers and Readers Festival on Sunday, it struck me that it encapsulates one of the key ideas explored in The Tiger's Wife. What does it mean to have mixed heritage in a region that has been so frequently partitioned and re-partitioned?

I've never had the privilege of hearing an international author speak about a novel I have just finished reading, while the characters, themes and ideas still whirl in my head. In fact, I've read The Tiger's Wife twice. There are so many interwoven threads and rich back stories, that when I reached the end I started at the beginning again, wanting to fully absorb it all. (I've only done this once before, with The Bronze Horseman by Paullina Simons. Don't judge. I was young and romantic.)

I was still curious as to why locations are not identified in the book, even though "The City" is clearly Belgrade with its twin rivers and citadel; the unnamed states Serbia, Croatia and Bosnia. Why not name the locations, or fictionalise them entirely?

It turns out this was a conscious decision not to get bogged down in the "historical inventory" of the war. Obreht said she wanted to explore the way people react to war and strife, rather than the specific conflict.
This she does well. For me, some of the most compelling passages concern the impact of the war on Obreht's 20-something generation. During the war, its distant presence informs both present ("there's a war on, we might all die anyway") and future decisions. When the war is over, they struggle to live without it (who needs all these newly qualified facial reconstruction surgeons now?).

Yet Obreht has no first-hand knowledge of the Balkan War. She fled to Cyprus in 1992 with her mother and grandparents, later moving to Egypt, before settling in the United States. She has gathered her thoughtful reflections from family and close friends who remained, or changes in attitude she observed upon her return.

The book was, it seems, a writer's way of processing the loss of her grandfather, of making some sense of a conflict that must have profoundly affected her personal and family life, as well as her sense of identity.

Writing the book also led her to reconnect with aspects of her Balkan heritage. Her depiction of life in the rural village of Galina took shape in 2009, when Harper's magazine commissioned her to travel to Serbia and Croatia in search of vampires. She went door-to-door in remote villages, collecting myths and remembered tales, learning about the rituals of death and the keeping of talismans against "village spooks".

It was she said, the greatest summer of her life. "Until now."

The Festival was Obreht's first international event and she retains that sense of a fledgling author, amazed by her own success. It still feels "miraculous", she said, to think that someone might print her work.

That's a sensation she had better get used to.

Look out for Bronwyn's Q and A with Sarah Winman, author of When God Was a Rabbit, this Friday.