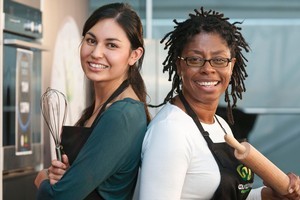 MasterChef finalist Nadia Lim has quit her day job and is talking up her future as a professional chef.
And her opponent in tonight's grand final, Jax Hamilton, says she could be New Zealand's answer to "Domestic Goddess" Nigella Lawson.
Both said they were feeling proud of what they had achieved during the MasterChef series and were excited about forging careers in the kitchen.
Hamilton said: "I'm really excited. It was a huge competition but I feel that it's just the beginning - I'm the next Nigella."
Lim revealed she had left her job as a dietitian at Green Lane Hospital and was "looking forward to lots of time in the kitchen and writing recipes".
The finalists also lifted the lid on simmering behind-the-scenes tensions on the top-rating reality show. They face off in the kitchen tonight for their last challenge, but the knives have been out for some time, they revealed.
Bickering, questionable hygiene habits from male contestants and nightly antics were common at the locked-down MasterChef Auckland mansion they shared during filming.
Hamilton, the series' self-confessed neat freak, said: "Generally the men were really disgusting and messy."
There were also personality clashes, said Hamilton. "Yes, there were and that's all I'm prepared to say. How could there not be? Even if you stuck me in a house with my best friends, we would have been shouting and screaming at people."
The constant elimination of fellow contestants only added to the pressure, said Lim. "One or two people were going every week so our environment was changing all the time. It was quite strained,' she said.
But while the finalists dished the dirt on eliminated contestants, they were full of praise for each other.
Lim described her opponent as "the life of the party. She's our Jamaican mum. She's very strong. She does really cook from the heart."
Hamilton described Lim as "exceedingly competitive" with an "amazingly creative food mind".
Both said it would be a relief to finally be able to talk about the outcome with everyone after tonight's final. The contestants signed a confidentiality agreement that forbade them from revealing the outcome before it went to air.
"Even though I know what's going to happen, I feel very excited and nervous. A secret is a big burden," said Hamilton.
London-born Hamilton credited her Jamaican heritage and mother's skills in the kitchen as her biggest cooking influences.
Only hours before the two-hour finale, the chefs had some last words for each other:
"Jax, it's been an awesome journey. I'm so glad I made it to the end with you. We're both winners," said Lim.
"It's been amazing travelling the same distance with Nadia and I want to wish her all the luck in the world," said Hamilton.