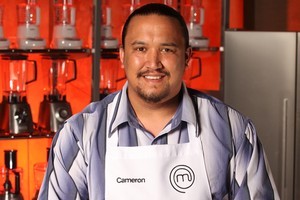 After 12 episodes we're down to the best of the best - Jax and Nadia, who have wowed New Zealand with their beautiful, mouth-watering dishes.
Jax has been consistent and on top of most challenges to date so there were no surprises with her making it to the final.
Nadia has had some close calls and a few emotional breakdowns but she has fought back every time.
She is looking more determined than ever, so it won't be a walk in the park for either of them, they both want it bad.
This week consists of four challenges, the first a taste test of a French classic bouillabaisse (fish stew) - they have to pick the 20 ingredients that make up this dish.
Next is a pork invention test in which they must create a dish using any cut of pork, plus create a dish using offal.
I spend most weekends chasing pigs in the bush so I know pork well. It has to be my favourite meat.
I got a little excited when I saw the third challenge - to recreate a Beef Wellington using Josh Emett's recipe.
There is something about a hunk of meat wrapped in pastry that gets my mouth watering, but knowing Josh's high standards this dish would have to be banging.
The last challenge makes me shake in my boots just looking at it: another tower. The girls will have to be on their game if they want to pull this one off and walk away with the title of the next New Zealand MasterChef.