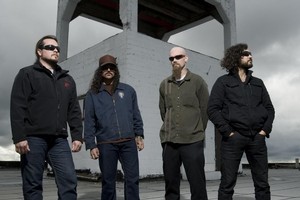 Few bands can conjure up a groove as big, deep and dirty as Kyuss. And while they are brutal at times tonight, they also work songs up to a steamy intoxicating trance before hammering into tracks like desert boogie stomper Hurricane and the fittingly trashy Green Machine as a finale.
This was the first of two nights at the Powerstation by the reformed stoner metallers from Palm Desert, California, who charted a mesmerising and heavy rock'n'roll course back in the 90s. When Kyuss - or Kyuss Lives as they are now known - broke up in 1995 they splintered off into many other bands, most notably Queens of the Stone Age.
While Queen's leader and guitarist Josh Homme is not part of this reformation, singer John Garcia, drummer Brant Bjork and bass player Nick Oliveri - the other key players in the band's classic line up who recorded 1992's Blues For The Red Sun - are back and looking like they're having a hoot belting out some of rock'n'roll's most trippy and potent tunes. On guitar is Bruno Fevery who almost steals the show as he moves from ravaging riffs and squalling soundscapes to hard funk licks and other cheeky flourishes.
Yet the old hands are not to be out done. Garcia's dour shriek is as powerful as it was back in the day and he's a hard working singer as he twitches, breathes and builds up to spit the words out. Then there's poised powerhouse Bjork who looks like a cross between a Mousekateer and a seedy drug dealer with his bandana, frizzy mop, and manicured moustache. The revelation is Oliveri, who has been a notorious menace in the past and even got fired from Queens for his destructive ways. Tonight he's on his best behaviour but he hasn't lost any of that unhinged venom that he plays with. The guy is a beast.
The long sprawling show runs the whole Kyuss gamut. There's the towering, and unashamedly Sabbath-like Freedom Run, Oliveri's crushing bass devastation is the highlight of One Inch Man, Thumb is typically sludgy and reckless, and the stoner punk of Allen's Wrench is as harrowing as it is danceable.
If anything it could have done with even more of that spooky desert-inspired eeriness that inhabited Blues For the Red Sun. But the suitably chaotic show, with treacherous crowd surfing, joints being thrown on stage, and Garcia nearly getting dragged into the baying masses at one stage, made up for it.
And after more than 15 years it was worth the wait.