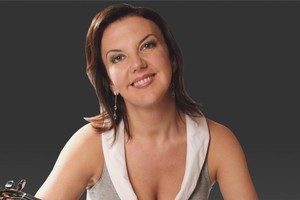 Tasmin Little has some busy weeks coming up. On Thursday the English violinist plays Sibelius with the Auckland Philharmonia Orchestra, but she is also touring the country for Chamber Music New Zealand with her Naked Violin solo concert and sitting on the judging panel for the Michael Hill International Violin Competition next month. All this along with masterclasses, presentations and an appearance at the APO's Sistema Aotearoa in Otara next Wednesday.
"The only thing I'm not doing is conducting and composing," she laughs.
Little has always been drawn to "the heroic voice of the violin doing battle with this huge sea of an orchestra" in the Sibelius concerto. Her advice with tackling such a well-known work is simply to "be yourself".
"I always go back to the initial feeling of excitement that I had when I was first preparing the concerto. I've loved this piece since I was 8 years old. I remember the wonderful Ida Haendel - she used to play it often and her recording with Paavo Berglund and the Bournemouth Symphony Orchestra is one of the great, great performances."
Little is looking forward to working with Finnish conductor Okko Kamu next week and "picking up on his ideas because this music is so much his repertoire".
She puts great store on the crucial partnership of conductor and soloist. "What really makes a performance is when both of us, having decided in rehearsal on a shape and what we're aiming for, then get up on stage and create that wild feeling of spontaneity."
She recalls a Brahms concerto with her friend Simon Rattle conducting. "It was just like dancing with the most wonderful dancer. There was this give and take, like one person doing one thing and the other replying, 'I love that ... now how about this?"'
Understandably, she is keen to talk about her superb new Chandos recording of the Elgar concerto, which has just carried off the Critics' Award at the 2011 Classical Brits. Little consciously staved off the temptation to record this work too early in her career as "you're probably only going to do it once and this might be the only version you get to do".
Concerned a youthful interpretation of this great symphonic score could become self-indulgent, she now feels that "with the benefit of perspective, I've become more aware of the really important places where you take time and savour the moment".
And what better parallel could there be than the simple pleasures of an English country garden? "It's just as if you're walking through a garden taking in a whole variety of colours and textures at one glance, but there are times when you stop, look at one flower and smell it. It's a matter of deciding which of those flowers you're going to stop for, and which are just part of the overall picture."
She is justifiably proud of including, as a bonus track, the alternative accompanied cadenza Elgar supplied when the solo violin could not be heard over the crackle of the original 1916 recording. "It's got such a ghostly otherworldliness, with those thrummed strings behind it and the harp certainly keeps it rooted in the romantic mould."
As for bringing the cadenza into the concert hall she has mixed feelings, wondering whether "it mightn't detract in a live concert, because you want that solo cadenza to be such a pivotal moment".
Aucklanders can next hear Little on June 10 when she brings her legendary Naked Violin programme to the Town Hall Concert Chamber.
That same week, she has her Michael Hill duties, although she does confess to initial misgivings about "playing God with someone's career ... I'm still at an age when I rather like doing it rather than judging it".
However, this event seems to be much more than just winners carrying off cheques and recording contracts. "I feel it's much more a platform for young people to gain experience and meet other musicians. It sounds a lot more human."
Performance
What: Auckland Philharmonia Orchestra
Where and when: Auckland Town Hall, Thursday at 8pm
On disc: Elgar, Violin Concerto (Chandos, through Ode Records)