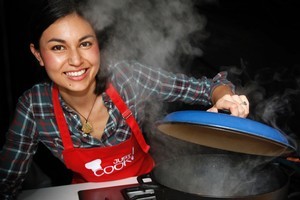 MasterChef finalist Nadia Lim will be glad when the final episode airs tomorrow, relieving her of a secret she has kept for months.
Miss Lim, of West Auckland, is competing against Christchurch executive assistant Jax Hamilton for this year's MasterChef title.
"I'm pretty nervous. It's been great but I just can't wait to get it over and done with," she told the Weekend Herald.
"I've known since December."
It had been a battle to keep the winner a secret in the past five months, she said, particularly as the competition narrowed down to two.
The 25-year-old, who is a clinical diabetes dietitian at Green Lane Hospital, was at Auckland's Westfield Downtown yesterday showing off her cooking skills as part of NZ Nutrition Foundation's Just Cook Food Week.
The initiative is to show Kiwis how to create affordable family meals and encouraging people to cook more.
Miss Lim served up mince koftas with lentils and red cabbage and a yoghurt dressing, which went down well with the crowd.
Talking about the show, she said she kept a journal throughout the series, noting comments the judges gave her in a bid to learn from her mistakes.
"It was really intense - the tears were so annoying," she laughed.
"It just meant that I really wanted to do it right and because it just meant so much to me."
It was also one of the best things she's ever done.
"I've learnt loads of stuff from all the judges and just from being on the show."
Miss Lim described her rival as a great chef.
"Jax is great and it's amazing that we made it to the final together," she said.
Tomorrow's final will have the competitors performing four challenges - including one where they have to guess 20 ingredients in a meal.
Up to 80 of Miss Lim's family and friends will watch the final episode together.
She said whatever the result, the experience had benefited her in different ways.
"It just showed me that if you've got a passion, then do something about it."