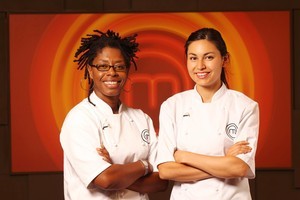 With only one more sleep until the MasterChef grand two-hour finale, it's time for punters to study form and place your bets.
Lucky shoppers in Hornby, Christchurch, will get an extra chance at "guess the winner". That 'burb is host to a bizarre live cook-off in a marquee in the sponsor's supermarket carpark today.
Bizarre because the judges (Ray McVinnie and the about-to-be-deposed 2010 MasterChef Brett McGregor) and competitors Jax Hamilton and Nadia Lim will all have to pretend the pair are both still mere finalists, that one doesn't already have the crown in her possession. Bloody good acting all around, I'd say.
It's interesting scanning back through Jax and Nadia's performances from the beginning of the show. While the pair have wonderfully different personalities - the wickedly irreverent Cockney-Jamaican Jax has produced some of the best lines of the show; Nadia has produced more tears and has always been intense and serious about her food - both are similar in their deep, deep love of their food, and not in a skitey-pants way.
The extroverted Jax finds soul when she cooks ("I'm totally at peace and loving the world"), while the more considered Nadia finds her "thing" in the fantastic reaction from other people to her food and is "utterly, completely obsessed by food".
Both got that bringing their stories to their food won over the judges and will likely win them an audience when one of them heads out into the media world on Monday wearing her MasterChef 2011 winner's pinny.
Nadia, 25, says she has a Jamie Oliver-style book/TV/campaign goal in mind, but Jax is less forthcoming about her quest for fame or fortune, more open to what else there is to learn.
Both presented food from their cultures as their audition dish, and through the show they succeeded when they stayed true to themselves.
Nadia was constantly chided for over-reaching and over-complicating her food. Jax may have garnered the wins, but Nadia nailed good feedback for her flavours in the Italian, Spanish and Indian challenges.
And when Nadia had the calm and orderly Stu Todd as her partner to counter her teary, flustery time management in the Euro launch party challenge, she scored a resounding win.
I suspect both Jax and Nadia would admit their Chocolate Tower of Terror was a low point for both and they were neck and neck in the Langham room-service challenge.
Jax's approach to food is more intuitive and rooted in years (20-plus more years, as Nadia rather pointedly remarked before they headed into the semis) of pottering in kitchens with food from around the world.
So where are we putting our chips? First up, I doubt either really seriously wants to be an actual chef sweating it out in an actual kitchen.
I admit I got sick of the "I'm a dietitian and this is naughty" confessions from Nadia every time she used a bit of salt or added a slug of cream - surely any home-cooked food is better than the so-called "healthy" packaged stuff the marketers throw at us.
But then in her semifinal win, she wisely recognised that presenting and styling food for a photo shoot or cookbook is not like real-life food.
Her food is fashionable and careful and no doubt good for you. But if I were a TV producer or a booking agent I'd be drawn to Jax's take-no-prisoners personality (she growled at a top chef for sexism, for goodness' sake), her cool mix of London and Kiwi and Caribbean flavours and her un-serious approach to food. So that'll be Jax winning then. Or Nadia.