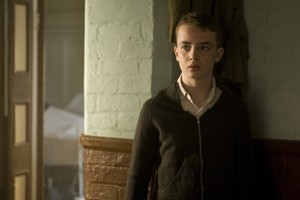 Just as his latest television drama, Downton Abbey, hits our screens, so does writer and director Julian Fellowes' second feature film as director, the family-oriented period drama From Time to Time.
An adaptation written for the big screen by Fellowes (who also wrote Gosford Park and The Young Victoria), From Time to Time is based on the children's novel The Chimneys of Green Knowe, by Lucy M. Boston.
Fellowes has taken a ghost story for kids featuring slightly confusing time travel and placed it into an adult period drama.
It's the story of 13-year-old Tolly (Alex Etel), a Manchester lad who, near the end of World War II, is sent off to stay with his estranged Granny Oldknow (Smith), while his mother tries to find out more information about his father, who is missing in the war.
Curious about his family's history, Tolly starts investigating the family estate, Green Knowe, where it's widely accepted ghosts roam. Tolly is as shaken as we are when he suddenly passes through time and is able to watch and take part in his ancestors' lives in the 18th century.
What he learns from this, along with stories his grandmother tells him, helps him solve a long-standing family mystery, and to deal with his father's predicament.
Lacking the large-scale special effects and big, glossy look of other kids' fantasy literary adaptations, such as the Harry Potter and Narnia franchises, this sweet and heartfelt story about death and loss takes a simpler and more traditional approach.
The present is restrained with an austere palate and soft focus shots, in contrast to the past where most of the action takes place and which is more colourful, lively and melodramatic.
From Time to Time has picked up a series of children's film awards, most likely due to its poignant subject matter and solid performances, led by Dame Maggie Smith who is pitch-perfect. It's a curious blend of young and old though, a Sunday Masterpiece-like ghost story which will struggle to attract kids after more lively action, and a film that feels like it's for a mature audience but is focused on younger characters.
Stars: 3/5
Cast: Alex Etel, Maggie Smith, Timothy Spall
Director: Julian Fellowes Running Time: 95 mins
Rating: M
Verdict: A dignified, thoughtful, old-fashioned family adventure
- TimeOut