May feature book: The Tiger's Wife.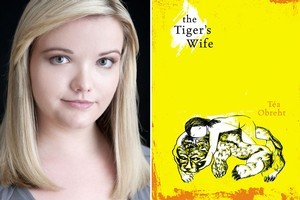 I used to think magical realism was a bit like olives. Everyone else seemed to like them, but to me they tasted like the smell of a rubbish dump. Still, I kept on tasting and eventually developed a liking.
Although I have always felt a little uncomfortable with novels that merge the fantastical and the everyday, plenty of my book-loving friends adore magical realism. I was determined to give it a good shot.
So when I travelled through South America a few years back, I stuffed my Macpac with zip-off cargos, blister-proof socks and yellowing, dog-eared second-hand copies of Isabel Allende's The House of the Spirits and Gabriel Garcia Márquez' 100 Years of Solitude.
I sat with my Garcia Márquez on a deep-rutted mountain road in Ecuador, as our driver changed the third flat tyre on his open-sided truck. I clutched my Allende as our train derailed somewhere west of Brazil and we sat stuck to the vinyl seats for hours as hawkers shoved fried plantain through the window.
I read her again on the deluxe cama bus that carried us over the pass from Argentina to her native Chile.
I lost myself in the vibrant worlds layered lyrically upon the page, the romantic thread of the narratives, the rich storytelling traditions of Colombia and Chile. But with each book there was a point where the magic became just too much. My eyes glazed over at yet another apparition.
So I was a little wary when it came to my feature book this month. The Tiger's Wife has been celebrated by critics for its blending of folklore and reality, and author Téa Obreht includes both Garcia Márquez and Allende in a reading list on the final page.
In chapter two, Natalia's grandfather is a young doctor, called to attend to a "deathless man" who claims to be condemned never to age or die. Grandfather is a man of science and cannot reconcile what he sees with what he knows to be true. He questions and tests the deathless man, refusing to hand over a wager despite apparent proof.
A fantastical story indeed. Yet Grandfather's scepticism echoed my own and his robust debate with the deathless man somehow made the concept seem more plausible - or at least not implausible enough to spoil the story.
Chapter four steps back to Grandfather's childhood. It is 1941. A tiger has escaped from the city zoo and is terrorising a remote mountainous village. The villagers have never seen nor heard of a tiger before; they have no images, no words for this creature that claims their men. They blame the devil and retreat behind superstition and fear of outsiders.
Here, some of Téa Obreht's imaginings get a little more extravagant, but the villagers' fear provides valuable context. Oft-repeated gossip and speculation can become "facts", retold to future generations as true stories, just as this story is told to the reader.
Who is to say where the line is drawn between truth and myth? As Obreht writes, "It is one thing not to believe, but quite another to entertain a possibility."
How willing are you to entertain the magical or fantastical in a novel?
* The winner of the tickets to see Téa Obreht at the Auckland Writers & Readers Festival was Catherine Byrne. The winners of copies of When God Was A Rabbit were Janet Walton, Genie De Wit and Chelsea Henry.
* To read Bronwyn's discussion of our other May feature book, When God Was A Rabbit, click here.