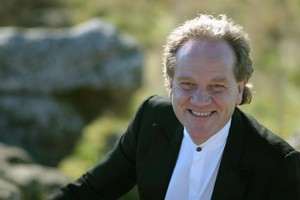 Works with Words is the second of Auckland Philharmonia Orchestra's innovative platforms for new music.
Six local composers have set words by a New Zealand writer to be spoken or, in some cases, fully acted out by the marvellous Stuart Devenie, against an orchestral backdrop ably conducted by Kenneth Young.
An audience that very much reflected the event being part of the Writers and Readers Festival appreciated the political barbs and thrusts.
Composer Chris Adams introduced himself, reading a call-to-arms by poet Sam Mahon suggesting it was time to turn the rifles on our eco-pillaging Neros in Armani suits.
Adams' setting of Mahon's Antonyms of Trust took aim and scored a bull's-eye. Devenie was sometimes combative, sometimes ironic; when the eyebrow was raised, Adams' subtle textural background brilliantly focused into deathless doco theme mode.
The politics of peace informed John Elmsly's White Feathers. Elmsly's introductory words were as immaculately crafted as his five short settings.
Mysterious sonority pillars for James K. Baxter's Nagasaki Child set the mood; at the end, Hone Tuwhare's Earth Goddess was buoyed on a hint of walking bass.
Alex Taylor's Attention had its orchestral finesse acoustically blunted, but Taylor's punch-in-the-guts collage of political idiocy and post-Blam Blam Blam rhetoric still hit its target. Devenie, with Muldoon drawl and clown's costume, played it to the hilt, right down to the final megaphone assault.
The Lover's Knot, with Robbie Ellis collaborating alongside playwright Renee Liang, told of Walter Bolton, the last man to be hanged in New Zealand. With mood and tone perfectly pitched, it pitted daggish humour - the "other woman" caught with sleazy clarinet and strummed violas - against the inevitable noose.
Yvette Audain's Eulogy was a more personal piece, more nebulous in effect than the driving narratives of the evening. Still there was much to be enjoyed in harmonies that ran from blurred post-lounge to Stravinsky crisp.
Stephen Matthews' Witnessing Parihaka provided a spectacular finale, well over twice the length of any other item.
Its political issues, from the poetry of Robert Sullivan, were stirringly delivered by Devenie, Te Kohe Tuhaka and a troupe of Parihaka musicians.
Ritualised in presentation, and occasionally burdened with some over-robust music, it was timely and timeless, although it should not have taken quite so much time.
What: Auckland Philharmonia Orchestra.
Where: Aotea Centre, Wednesday.