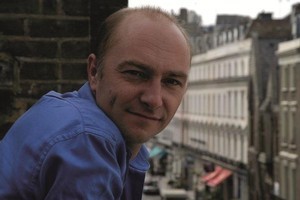 Let's start with a blatant ad and finish with an idea.
If you haven't planned your weekend yet, do this. Go online to www.writersfestival.co.nz and decide on three sessions for the Auckland Writers and Readers Festival.
Two that immediately interest you and one that you choose blindly, something about which you have absolutely no clue.
Book ahead, or simply show up at the Aotea Centre today through to Sunday and get tickets for the one-hour sessions as you go. If you live to regret it, I will give you my next newborn child.
This weekend there will be 26 speakers from 12 countries in your backyard. Do something about it. This is the opportunity when you get to vote with your feet - better yet, with your intellect - for what you value.
You may be curious why a Palestinian doctor who lived through seeing his three daughters blown up in front of him in his own home would still be compelled to teach peace with Israel. You may want to hear first-hand how Fatima Bhutto feels about the assassinations of her father and aunt or the execution of her grandfather.
There's biographer Carolyn Burke on Edith Piaf, A.A. Gill on food and travel, or war correspondent James Fergusson on the Taleban. You could try an hour with film-maker Vincent Ward or a panel on graphic novels.
There's a session on the "surprising talents" of the middle-aged mind by Barbara Strauch, an author who has already studied the "primal teen", obviously dooming her to a lifetime of intellectual bi-polar tendencies. She probably wants to go out and crash muscle cars but can't remember where she put the keys.
I peddle this for one selfish reason alone: I want this festival to be over-run with success. I want to see it multiply like a cultural disease.
Because, in a sense, it is one. That's its secret. You get the one-hour cheat sheet version of what has taken a good mind years of depth to produce, like a bar mitzvah buffet for generalists. I have always admired people with this kind of wholly directed intelligence, a singular focus, like elite academics, athletes or writers. Mostly, because I am their opposite.
I've always chosen work that moves from project to project, one idea to next week's new one. Shallowness is my forte. It's the commitment to years of depth that would drown me.
Somehow that fits my times and my generation more than I was ever to know when I began working life a few decades ago.
Today, my machinegun brand of curiosity feels like a tag for an entire generation. I am the oldest of a new wave behind me whose declining singular focus instead thrives on casting their brain net incredibly wide, even compared to our parents.
Our net, our internet, is everything. Not just a tether, but a lifeline. We may think shallow, fast and scattered - but not small.
I sit in Tracey Barnett World Headquarters [think the Pentagon, only with a bad guest couch] and can't wait to turn on my window to an entire world waiting for me each morning at the touch of a keyboard. I have become Google's second cousin, once removed - a human aggregator.
I got lucky. I have grown up in a generation that rewards skimming over diving. You can mourn it, but I believe I am only the cusp of a huge wave behind me that will be forever changed.
There will never be a Pulitzer or Booker or Nobel Prize for the best generalist, the thin mind spread fat, but it is for me, a huge, intrinsically interesting process. How do you understand so much, packaged into so little? I may spend my working life making that distillation.
Susan Sontag once said: "What I really wanted was every kind of life, and the writer's life seemed most inclusive."
I am a pantheon to ordinariness, to curious good attention, because I love more than anything, hearing the story.
Once, years ago, my young son burst into my office and announced, "My return to power is incontrovertible!" He had no idea what "incontrovertible" meant. He had created his own version of the Harry Potter line. But he knew if he said it with great abandon, he was not only parroting someone else's greatness, but taking a new piece of it for himself.
When you see these limitless riches in front of you each day on a small screen, you steal it, mix it all together and watch it add an inflection to your own voice.
Maybe that's all I really need. What I am forever looking for are those million little pieces of others' greatness to make my own power become, you know, incontrovertible.
www.traceybarnett.co.nz or Twitter @TraceyBarnett