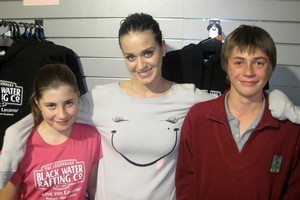 A trip to New Zealand has left a lasting impression on United States pop star Katy Perry, who has told fans repeatedly how much she loves it.
The singer, who arrived in Auckland last Friday, has kept her fans around the world informed of her travels via Twitter.
Perry tweeted to her fans on arrival: "I'm in New Zealand for the first time! I'm so excited!"
On Sunday, after performing a hit show the night before, she bungy jumped off the Harbour Bridge with a Kiwi fan; before posting a picture of herself taking the plunge.
She tweeted: "Pre-show bungy jump in New Zealand! Pppshaaah!"
Perry and her crew of about 15 were off to the Waitomo Caves on Monday, with Perry later posting: "I just survived the black abyss and saw glow worms! I love New Zealand - it's beautiful!"
Black water rafting chief instructor Angus Stubbs said the group was excited about the trip and Perry seemed particularly taken by the glow worms.
Later she posted a picture of a toy glow worm on her Twitter page.
"They had a fantastic time," Mr Stubbs said.
"There were heaps of people with her - her crew, part of the band and the dancers.
"They abseiled into the cave, then went on a flying fox in the dark under the light of the glow worms. She talked about all of it later."
Later on the group decided to head back to Auckland, but not before stopping at the nearby Huhu Cafe for dinner, after someone recommended it.
Afterwards she tweeted a picture reading "HUHU" and said: "If u ever come to the glow worm caves outside of Auckland u have to eat here. I would rate it 6 michelin stars!"
Co-owner Abi King said they got a call just before 9pm asking to make a late reservation.
Staff were initially reluctant to take on the group, but decided they would and were shocked to be told Katy Perry was among the guests.
"Of course after that we were like: 'Oh yes, yes'!"
Ms King said the pop star ordered a few different dishes, which she picked at with two of her dancers.
They were caramelised garlic and goat cheese and thyme tart, risotto balls, broccoli with chilli and pine nuts, roasted pumpkin with hummus, chips and braised beef.
"She had sticky toffee pudding for dessert, which she said was awesome.
"We kept the wine glass she used and just put it up on the shelf - it's still got a little bit of lipstick on it."
Ms King's fiance and co-owner Andy Rawles said staff were still awestruck and were grateful to find the star had advertised their restaurant on Twitter.
"We're pretty stoked," he said.