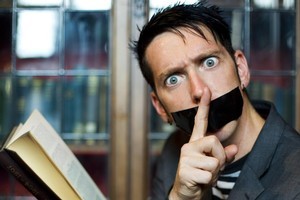 Two of the more melodic performances in the comedy festival demonstrate that as in music, timing is everything.
Sam Wills, the guy behind the cheeky and ingenious caricature The Boy With Tape on His Face, sits patiently as his sold-out crowd take their seats in the stately chamber, his satchel of tricks slung across his shoulder and his first gag slapped across his mouth.
The New Zealand mime was one of the most celebrated acts at Edinburgh last year. He has revised his show, adding new physics experiments, gently goofy Mr Bean routines and costumes to the quaint, antipodean sounds of Yann Thierson's Amelie soundtrack.
The result is perfectly executed, whimsical silence that gives your cheek muscles a workout.
He summons his first volunteer within the first few seconds of the show. The poor chap becomes known to the audience as the go-away guy for his inability to score a role in The Boy's masterpiece. But five other unsuspecting members of the crowd are gently coaxed into performing acts they never imagined they were capable of.
Evidently, rather than win laughs at the expense of their audience, The Boy is intent on warming the hearts of the crowd - be it through Cat Stevens, Otis Redding or a single rose.
He turns the crowd into a chorus, and manipulates kitchen objects into performing covers of famous love songs. It seems that while forcing his shut, The Boy is seeing mouths everywhere.
Half an hour later, across the square, jovial local comedian Steve Wrigley - a regular fixture on 7 Days - has decided to extend his vocal range this year.
He plays janitor Kevin, who, by tragic circumstances that require too much explanation for this review, winds up as the star in a musical (also called Kevin) playing multiple personalities and professing his love to Kiri Te Kanawa within the first few minutes of the production.
A comedy festival creative grant helped him compose an hour of passionate musical numbers, and build an elaborate set that takes him from the bus to the bedroom, and the fish and chip shop to the roundabout in swift manoeuvres.
Aided by his fiancee, Cyan, Wrigley tells a story of love, hate, adultery, environmental heroism and evil traffic lights.
Those who lose their place in the verbose and cleverly rhymed lyrics have plenty to point and giggle at; including a wickedly creative singing alarm clock and a Kiwi costume that could take a wearable arts first prize.
Clearly Wrigley and his wide-eyed, treacle-voiced fiancee could have secured roles as children's entertainers. And yes, their mild-mannered, endearingly quirky show asks its crowd to chortle with childish abandon.
Boy With Tape on His Face, 7pm at The Chamber, Auckland Town Hall until Saturday.
Steve Wrigley's Kevin: The Musical, 8.30pm at the Herald Theatre until Saturday.