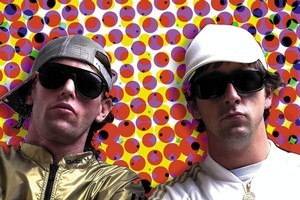 To help celebrate NZ Music Month, TimeOut and nzherald.co.nz, in conjunction with Frequency Media Group, are giving away a free download EP every Thursday in May.
David Dallas, profiled elsewhere this week, features in the second of the Outlook for Thursday series, one of five-hand picked tracks designed as a primer for recent releases from local urban, pop and reggae acts.
Here's volume 2's tracklisting:
PNC
That Kinda Guy
On one of the stand-out cuts from his new third album Man on Wire, New Zealand hip-hop's resident good-time guy opens with this, a track of many bells and whistles. That includes an indelible vocoder hook and a retro rump-rattling G-Funk groove.
David Dallas
Caught in A Daze (feat Freddie Gibbs)
A chilled jazz-funk propelled hip-hop track from Dallas' latest The Rose Tint which comes with a smooth/rough tag-team vocal with Indiana rapper Freddie Gibbs.
House Of Shem
Sweet Love
From the band's number one album Island Vibration, one of their many slices of reggae, laden with so much sunshine it almost has its own burn time.
North Shore Pony Club
Sex, Drugs & A Drum Machine
Trademark electropop nuttiness from the synthesizer-wielding Auckland duo.
Ria
Over You
An early single from the upcoming South Auckland soulstress who sings up a storm over a mix of big strings and dancefloor propulsion.
To grab the songs and accompanying artwork, simply go here.
See TimeOut for the next two weeks for details on our next EP giveaways, which will include selections from the dance and alternative genres.