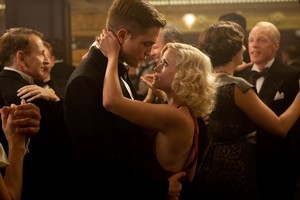 Director Francis Lawrence's adaptation off Sara Gruen's popular novel Water for Elephants is a luscious and impressively shot Depression-era romantic drama. Although for such a passionate and, at times, cruel and violent story, Water for Elephants the movie is a surprisingly unmoving affair.
Christopher Waltz dominates the screen as August, the volatile owner and ringleader of the Benzini Bros. Circus. A tyrant of sorts, he's not afraid to throw his employees from a moving train to avoid paying their wages, and is equally brutal and cruel to his circus animals.
Reese Witherspoon is Marlena, his wife and the star attraction of the circus. With a platinum blond Jean Harlow hairdo and costumes inspired by Greta Garbo's Mata Hari, it's hard not to be transfixed by Witherspoon's looks, but when it comes to convincing us she's "damaged goods" with a tragic past, she's too beautiful and composed to be convincing.
Her love interest is young veterinary school student Jacob Jankowski (Pattinson) who, after the accidental death of his parents in a car accident, flees town, jumping a train that just happens to be the Benzini Bros'.
Impressing August with his Cornell college education, he becomes the circus vet and is swept up in the tough hierarchical circus life.
Pattinson does a decent enough job as Jacob, he certainly looks more alive than he does in the Twilight series, even cracking a smile or two, but seems most relaxed when his co-stars are animals (especially Rosie the elephant). There's a sense of attraction between Witherspoon and Pattinson but not enough to really set the screen alight.
The lack of romance between characters contrasts with the way the film looks, which is possibly too romantic for its Depression-era setting. The production design (by Jack Fisk of There Will Be Blood fame) is on a grand scale, as is the cinematography, and collectively it's all almost too pretty and whimsical to truly portray the gritty reality of America in the early 30s.
Water for Elephants isn't what it has ambitions to be, an old-school sweeping epic. It is, though, a beautiful piece of escapism with its circus setting and wonderful costumes, if not a little at odds with the animal cruelty and Depression desperation sitting awkwardly in the foreground.
Stars: 3/5
Cast: Christoph Waltz, Reese Witherspoon, Robert Pattinson
Director: Francis Lawrence
Running Time: 121 mins
Rating: M (Violence)
Verdict: Lovely looking piece of escapism, but lacks chemistry between its leads
- TimeOut