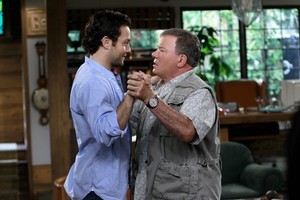 The sitcom has been doomed to death for years. Particularly since reality TV came along, with its supposed slices of real life, real characters, real dialogue. We all know better now but compared to the likes of MasterChef or The Biggest Loser, contrived situations themselves, sitcoms can seem all the more false. The canned laughter. The same characters week in, week out, communicating in a kind of hyper-speak. In perfectly lit kitchens.
Curb Your Enthusiasm, Modern Family, Flight of the Conchords - they're original anomalies in a sea of bland yet popular sitcoms like Two and a Half Men.
It never ceases to amaze me when another formulaic sitcom is born. TV2's $h*! My Dad Says at least has a non-PC title, (they call it Bleep My Dad Says in the US), suggesting it might have a cynical, mean sense of humour. This is a good thing. There's nothing worse than a sitcom dad who tries to teach his kids a soppy lesson.
"Do you think it's funny to insult the woman who pushed a giant moron through a tiny opening?" quips William Shatner in the role of curmudgeonly Dad.
I want to like this show. We know from Boston Legal that Shatner is good at sending himself up. It's written by the creative team behind Will & Grace, one of the few sitcoms that turned the standard sitcom formula into comedy gold.
But it has a hugely hammy tone and that damned laugh track, albeit one from a studio audience that may or may not be goaded with instructive cardboard signs. I keep waiting for someone in the background to throw in a "boodaboom-chish". This kind of comedy just feels so old-fashioned. That's a shame because it's based on a Twitter feed. You can't get much more modern than that.
It started when comedy writer Justin Halpern started quoting his blunt 74-year-old dad on Twitter.
The feed's popularity exploded to the tune of two million followers. A book based on the quotes reached number one on the New York Times bestseller list.
The other problem is, a Twitter feed needs no plot or context. The quotes are funny for their simplicity. Suddenly, we have a story about an estranged father and son, lumped together and forced to get along. It's based on Halpern's life but squashed into a half-hour, multi-camera TV show. Your typical sitcom, except that this works backwards from the punch-line, resulting in a forced "here it is!" kind of humour.
The first episode screened last night, flanked by three other hammy sitcoms: Two and a Half Men (snooze) and The Big Bang Theory and Cougar Town (hyper, occasionally laugh-out-loud funny sitcoms to be taken in small doses). $h*! had a few decent one-liners, even if it was obvious where they came from. "Son, sit down, the house is clean," said Ed as son Henry overdid the housework.
"We didn't accidentally kill a hooker, we had brunch."
They spilled out with the rhythm of a pop song. Line, line, pause, laugh track. Shatner is naturally funny, but he's not mean enough.
Of course the first episode of a sitcom is always the most fraught because the writers are trying to introduce so many elements at once. And you never know, once you get to know the characters you might just fall in love. Who else hated the first episodes of Fawlty Towers, Seinfeld and Friends? I'm prepared to sit this one out for at least another week to see if it's actually the $h*!. Boodaboom-chish.