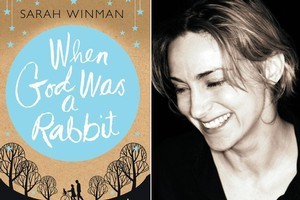 There's a laugh-out-loud passage early in When God Was A Rabbit in which the heroine of the book, Elly, is overlooked for the role of Mary in her school's nativity play after a run-in with a pious teacher. Horrified that Elly has christened her pet rabbit God (among other transgressions), the teacher casts her as the innkeeper.
On the night of the play, Mary and Joseph knock on her door and ask for a room:
"'Let me think,' I said. The silence in the theatre was thick, clawing with anticipation. My heart was beating hard, my throat tight. Say it, I said to myself, say it. And then I did. 'Yes,' I said, 'I have a room, with a lovely view at an excellent rate. Come this way, please.'"
In another light-hearted tale about childhood, the anecdote might have ended there. In this one, where a new calamity smacks into Elly in almost every chapter, the boy who plays baby Jesus is so startled by this unexpected plot twist that he falls out of the manger and dies in hospital.
This bombshell occupies a fleeting six pages in the 324-page novel. There's simply not enough room for such a minor tragedy among the road accidents, domestic abuse, kidnapping, murder, suicides, terrorist bombs, incarcerations, cancers, sexual abuse and broken hearts. And I'm only up to page 196. That's an average of one incident every 10 pages. It's hard not to fear for Elly every time she steps from her otherwise fairly normal loving family home.
But, thanks to its quirky writing style, the book also manages to be charming and funny, in the vein of that most haunting of childhood tragicomedies, Frank McCourt's Angela's Ashes.
The comparison is unfair, really, as McCourt has the advantage that his outrageous tale is about his own upbringing: the deaths of three siblings, poverty and starvation, alcoholism and desertion, sex abuse, typhoid.
You can't accuse McCourt of going overboard with his plot points. Stranger than fiction, as they say. But it's a fair accusation to send Winman's way.
Still, it's not giving away the plot of When God Was A Rabbit to say that Elly somehow manages to survive to adulthood with her immediate family intact (so far). Despite the bombardment (sometimes literally) of violent external forces, the novel is really about love, in all its forms.
It opens with a description of Elly's birth in London and proceeds at at a cracking pace, via the above-named disasters and near-misses, through her upbringing in Essex and Cornwall, to her adulthood. (I foresee more disasters.)
I'll leave further discussion of the book's rights and wrongs until later in the month. If you're reading it, or have read it, feel free to share your thoughts below - but please avoid plot spoilers.
I will say that I've relished the wit and pace of the first quarter of the book. The book's spark and humour have faded a little as Elly has entered adulthood, but with all that catastrophe catching up to her, can you blame it?
* Look out for Christine's discussion of our other May feature book, The Tiger's Wife, later in the week.