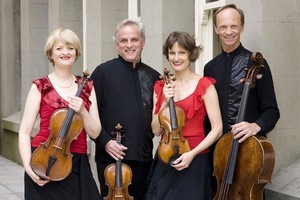 Seated in a town hall that deserved to be much, much fuller, waiting for the New Zealand String Quartet to take the stage, I felt privileged.
The previous evening I had been utterly transported when these musicians, with soprano Jenny Wollerman, performed Schoenberg's Second Quartet in the glowing ambience of Waikato University's Academy of Performing Arts.
Leader Helene Pohl's introduction had been a model of demystification and there were smiles when Schoenberg gave a pinch and a twist to a rumpty-tumpty folk dance in the second movement.
Wollerman was assured and lustrous-toned in the score's Stefan George settings, positively transcendent in the final salute to the poet's "holy voice".
Auckland's concert opened with Mozart's D major Quartet K 575. The NZSQ acquitted themselves with their usual drive and energy; a few smudges in the opening minutes had vanished in the repeat, although intonation was occasionally blurred.
Not enough, though, to dampen Mozart's special scoring of the Andante, with Pohl and Douglas Beilman's violins artfully tracking one another at the octave.
At the other end of the evening, Dvorak's final quartet was a popular closer. The first movement, with its volatile shifts and changes, may have had a few awkward turnarounds, but the ensuing Furiant had zest galore. The musicians balanced lyrical sentiment in the third movement with infectious high spirits in the last.
Between these fairly traditional offerings came Ross Harris's song-cycle The Abiding Tides, featuring the extraordinary Wollerman.
Vincent O'Sullivan's poems link, sometimes elliptically, the Titanic disaster with the more recent plight of Southeast Asian boat people; his keen images give Harris ample opportunity for a vivid musical treatment.
Wollerman caught the sense of expectation in the first song, with clear, confident lines against Harris's complex and sometimes sumptuous textures.
The soprano held nothing back in characterising these songs. By the third, she was playing the coquette in ironic waltz time.
Wollerman was moving as the Eternal Mother in the ensuing Lullaby, although four instruments, pizzicato, could not quite summon up the string orchestra needed here.
The mood became increasingly expressionist with all relishing the extra interpretative scope given to them, until the piece closed with a Nox perpetua. No soaring evocation this, but a humble prayer, in perpetual night rather than light.