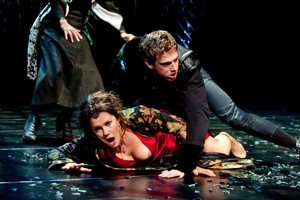 ATC'S production of Mary Stuart provides a thrilling introduction to Friedrich Schiller - the philosopher, poet and playwright who is honoured in Germany with the same kind of respect that English speakers reserve for Shakespeare.
The rivalry between Elizabeth I and Mary Queen of Scots is familiar from numerous film and television dramas, but in Schiller's radical interpretation the story becomes a deeply romantic inquiry into power, passion and the exercise of free will.
The production plunges us into a seething, chaotic world full of dissembling, double-dealing, religious fanaticism and cool Machiavellian plots.
Everything hinges on the performances of the two lead roles and Elizabeth Hawthorne and Robyn Malcolm rise to the occasion with portrayals that take your breath away.
In Hawthorne's portrayal of Queen Elizabeth a steely veneer of majestic authority is pierced by a roiling cauldron of conflicting emotions, while Malcolm's Mary Stuart is tender, serene and impulsive.
The confrontation between the monarchs is a true battle royal that leads to an exhilarating reversal of expectations with the fire and ice clash of opposites revealing profound similarities between two tormented souls.
Director Colin McColl has brought together a superb ensemble and achieves a fine balance between intense physicality and poetic eloquence.
There is insufficient space to acknowledge all the fine performances but special mention would have to go Stuart Devenie's chilling depiction of ruthless bureaucracy in which an icy observation of protocols is shot through with a barely contained bloodlust.
Some light relief is provided with George Henare's hilarious portrayal of a French dandy, and Cameron Rhodes brings great comic flair to his study of the Queen's secretary who is trapped in a Catch-22 situation where servile refusal to exercise any initiative places him in danger of being punished for disobedience.
The production design is a triumph. Rejecting the easy option of a period setting, Elizabeth Whiting's costumes pull off a stunning pastiche of ancient and modern to evoke a timeless, richly suggestive atmosphere.
John Parker's elegantly simple set is strikingly animated with deftly choreographed scene changes and dramatic lighting effects coming together to create a haunting final image.
What: Mary Stuart
Where: Maidment Theatre
When: Until May 28