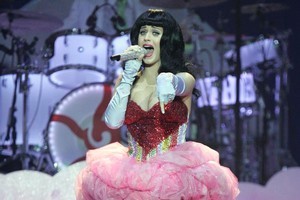 No wonder the young, hyperventilating fans were being hauled from the mosh pit at a rate of one per minute during the support act.
Katy Perry's Auckland concert was an attack on the senses, and wafts of Strawberry Shortcake scent filled the air an hour before she appeared on stage.
The fans - dressed in wigs and cupcake bras and tutus - had reached immeasurable levels of excitement by the time they received their first glimpse of the star, in the form of a video clip inspired by The Wizard of Oz and Tim Burton's Candy Land that painted Perry as a young girl who had been bullied into a dream of cupcakes and lollipops.
The fantasy spat her on stage dressed in a glittering candyfloss tutu.
It was always going to be more of a theatrical arena spectacular than a chance to marvel at Katy Perry's vocals, and her opening song Teenage Dream suggested that maybe it was the kind of show to just sit back and goggle at the costumes and the back-up dancers' circus-like moves.
But one costume change later, Perry's vocals were as warmed as her audience's and her performances of Peacock, Last Friday Night, E.T. and Not Like the Movies were as zany as her lyrics and video clips.
Her stiletto heels may have prevented her from joining in the dance routines but she jumped and punched the air - in body-stockings, leotards, evening gowns - through the entire evening.
She could have just run through the hits, floating on a swing seat, being lifted into the air on a human trapeze, flinging herself across a smoky floor in a cat suit, but Perry had been waiting a long time to come to New Zealand and she didn't just want to put on a show for her first Auckland audience. She wanted to connect with them too.
"New Zealand I am so drunkenly in love with you" she shrieked as she shimmied to the edge of the stage, arm slung over her glitter-smothered acoustic guitar. "I don't know why I spent such a long time not being here."
This was Perry's chance to roll out her one-woman stand-up comedy routine, saying New Zealanders must have the most "adorable personalities" if they picked the little bird who couldn't fly as their mascot out of pity.
She engaged the audience in a game of "name that song" with a Katy Perry kiss as the prize, which allowed her to launch into hilarious covers of Rihanna, Jay-Z and Willow Smith before performing her acoustic version of I Kissed a Girl.
A cover of Whitney Houston's I Wanna Dance With Somebody allowed her to fill the stage with members of the audience.
And she wasn't in too much of a hurry to pose for a photograph with a fan that came up to her knee.
Topped off with her hit single Firework complete with pyrotechnics, and the final sugar rush of California Gurls that showered the crowd with pink confetti, Katy Perry's show was everything the fans could have wished for, especially for the dozen or so lucky enough to have her plant a kiss on their foreheads. Boy did they like that.
Who: Katy Perry with support from Zowie.
Where: Vector Arena.
When: Saturday night.