York Bowen: Symphonies (Chandos, through Ode Records)
Rating: 4/5
Verdict: "Symphonic frolics with a minor English master."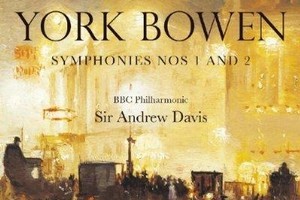 Joseph Holbrooke, in his 1925 book Contemporary British Composers, allotted York Bowen (1884-1961) one short paragraph, stressing the lighter side of his output.
This music may not have been so individual, Holbrooke comments, but at least it was not academic and turgid, one of its rather quaint virtues being its "frolicsome innocence".
A York Bowen Society was founded just a few years ago, with Stephen Hough as president, so the man once hailed as the English Rachmaninov could get some overdue acknowledgement. Hough had recorded Bowen's piano music in 1996, justifying its relatively conservative style as that of "a composer who loved the ground he dug, and found a lifetime of contentment sifting through its contents".
More Bowen music filtered through in the new century, with Lawrence Power's splendid 2008 Hyperion recording of the complete music for viola and piano giving intimations of deeper and darker emotions.
Ironically, in that same year, I had the good fortune to rescue a score of one of these sonatas, turfed out, unloved and unwanted, from one of our university libraries.
A new recording of Bowen Symphonies, with the BBC Philharmonic under Sir Andrew Davis, is a brave gesture of faith.
The first is a student work from 1902, with a curtseying first movement that is more salon than symphony hall.
A central Larghetto nods to Schumann, although the elegantly rendered clarinet melody, veering through shifting harmonies, is of a quality that should make time and period irrelevant.
It is simply exquisitely crafted music.
The 1909 Second Symphony is more secure stylistically even if its fairly traditional idiom makes it difficult to believe that Stravinsky was about to hatch his Firebird and Schoenberg was fossicking in the psychoforest of Erwartung.
Bowen's Symphony is a big work, written for a big orchestra, with an opening as punchy as anything Tchaikovsky could muster and an equally full-on Finale that makes a convincing symphonic argument.
But you may well wish that its sparkling scherzo ran for twice its frolicking length.